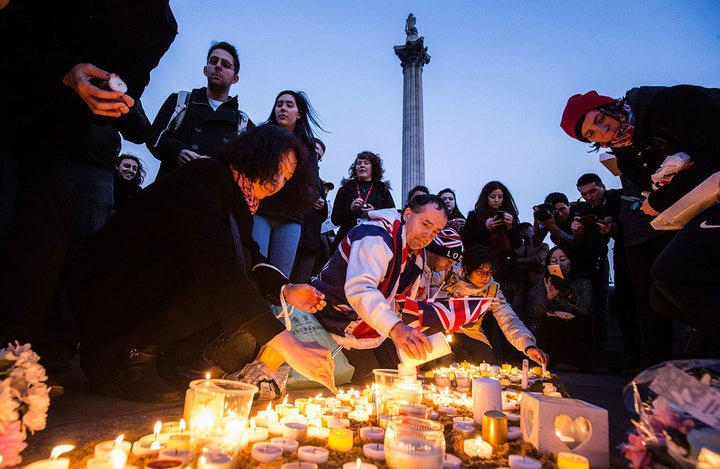 Mourners attend a vigil in London's Trafalgar Square for the victims of Wednesday's terrorist attack outside of the Palace of Westminster. ISIS has claimed responsibility for this attack by a man who plowed an SUV into pedestrians and then stabbed a police officer to death.
James Gourley / James Gourley/REX/Shutterstock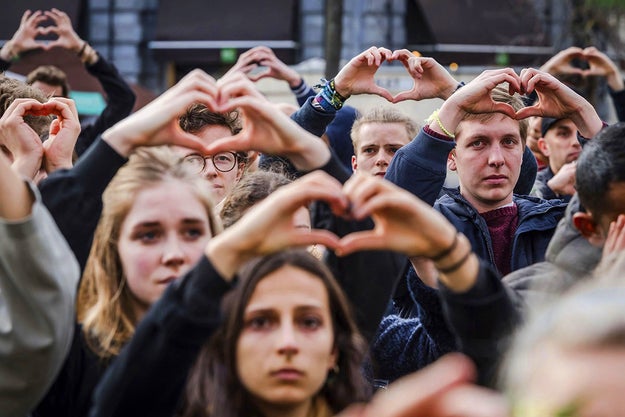 People make the shape of a heart with their hands as they observe a moment of silence at the Bourse in Brussels during the one-year anniversary of the Brussels attack.
Geert Vanden Wijngaert / AP
An activist has her feet cemented in a wooden case during a rally outside the presidential palace in Jakarta, Indonesia, protesting the operation of a cement factory in Kendeng, Central Java. Dozens of farmers and activists opposed to the factory also had their feet encased in concrete during the days-long protest in Jakarta.
Dita Alangkara / AP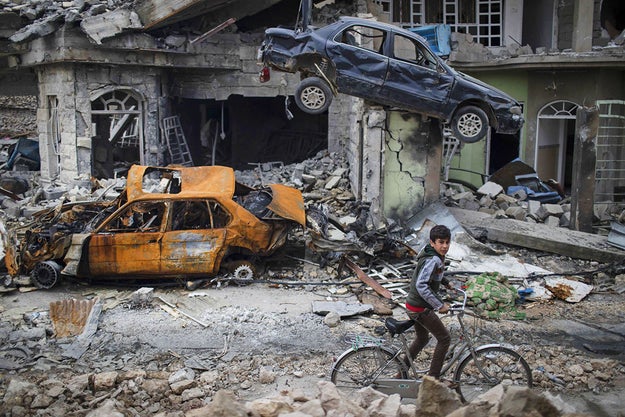 A boy rides his bike past destroyed cars and houses in a neighborhood recently liberated by Iraqi security forces, on the western side of Mosul. An estimated 750 civilians have been killed or wounded since the push to retake the western half of the city began in late January, and more than 100,000 have fled.
Ap / AP/REX/Shutterstock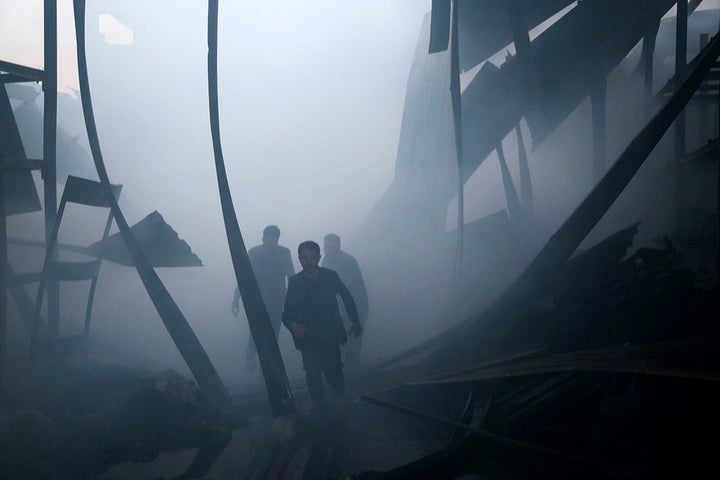 Syrian civil defense volunteers, known as the White Helmets, walk amid debris as they extinguish a fire reportedly caused by air strikes in the rebel-controlled town of Hamouria.
Amer Almohibany / AFP / Getty Images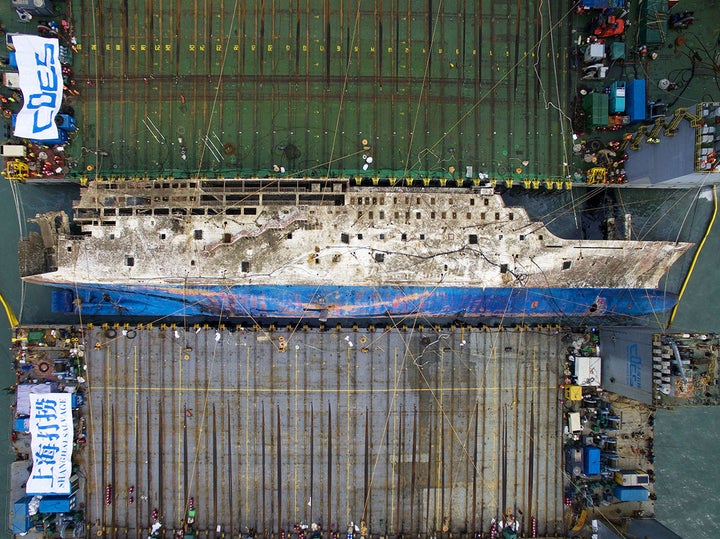 A salvage team works on raising the sunken Sewol ferry in the waters near Jindo, South Korea. The South Korean government is attempting to salvage the ferry that sank near Jindo on April 16, 2014, killing at least 295 people, most of whom were high school students.
Pool / REX / Shutterstock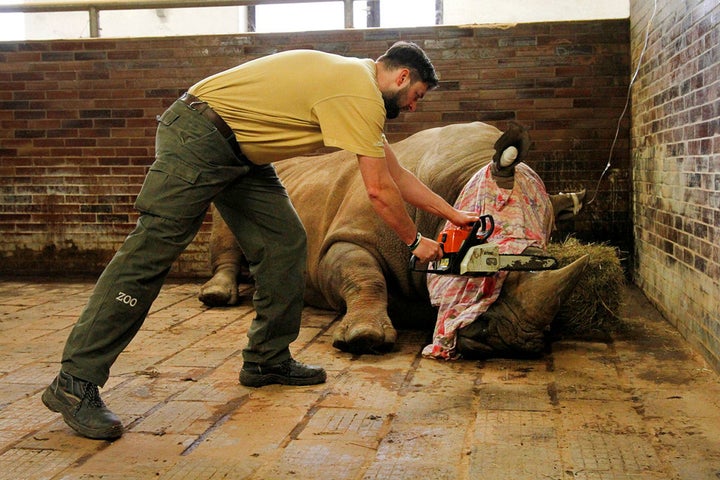 A rhino is dehorned by a zoo veterinary surgeon in its enclosure at the Dvur Kralove Zoo in the Czech Republic as a safety measure to reduce the risk of potential poaching attacks.
Handout . / Reuters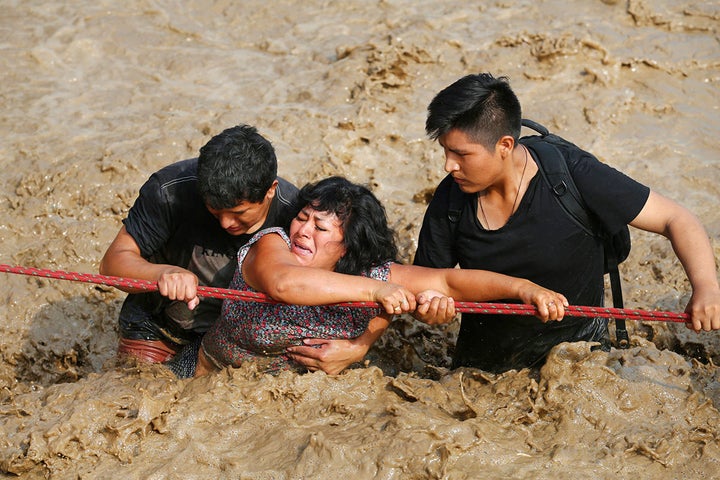 A woman is assisted while crossing a flooded street after the Huaycoloro River in Huachipa, Peru, flooded over its banks, sending torrents of mud and water rushing through the streets.
Guadalupe Pardo / Reuters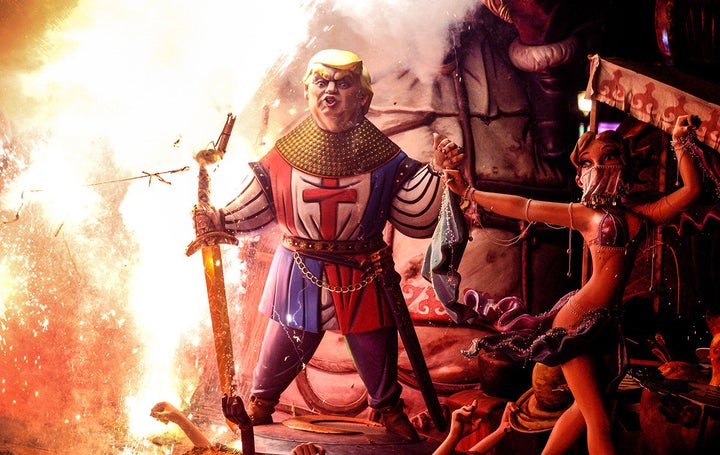 A statue representing Donald Trump burns on the last night of the Fallas Festival in Valencia, Spain. Fallas are gigantic structures made of cardboard portraying current events and personalities and burned in the streets of Valencia as a tribute to St. Joseph, patron saint of the carpenter's guild.
Jose Jordan / AFP / Getty Images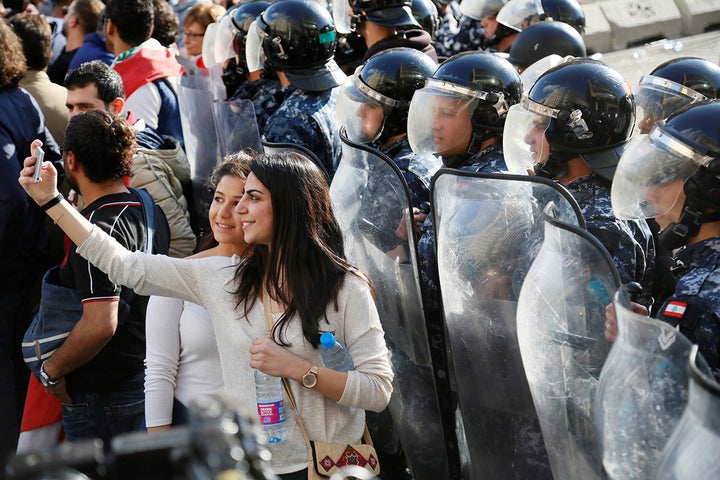 A woman takes a selfie with security forces as Lebanese people gather at Riad Al Solh Square in Beirut to protest corruption and the government's new tax plans.
Anadolu Agency / Getty Images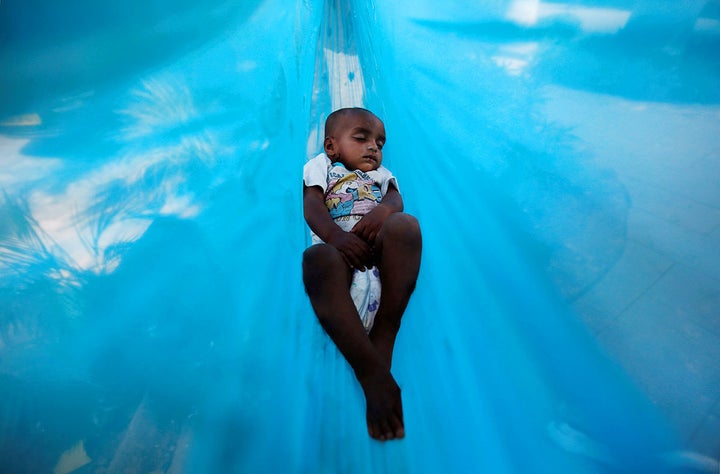 An 11-month-old boy sleeps in a hammock on the promenade next to a lake in Mumbai.
Danish Siddiqui / Reuters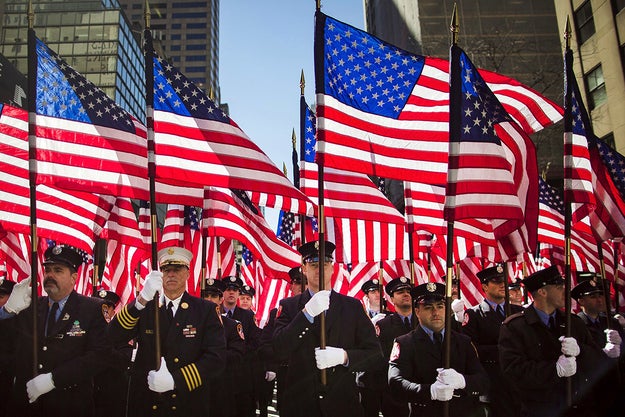 Firefighters march up Fifth Avenue during the St. Patrick's Day Parade in New York City.
Andres Kudacki / AP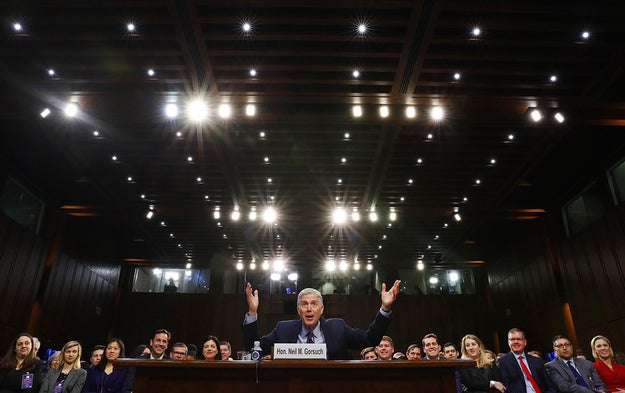 Supreme Court Justice nominee Neil Gorsuch reacts during his confirmation hearing before the Senate Judiciary Committee on Capitol Hill in Washington, DC.
Pablo Martinez Monsivais / AP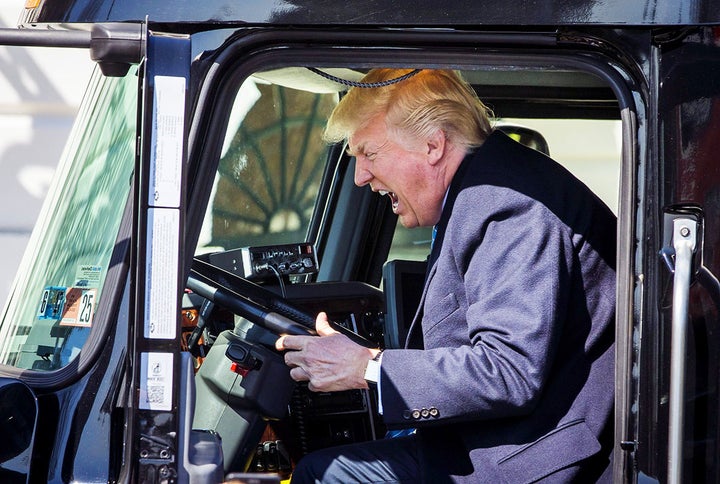 President Trump gets excited as he sits in the driver's seat of an 18-wheeler during his meeting with truck drivers and trucking CEOs at the White House.
Lo Scalzo / LO SCALZO/EPA/REX/Shutterstock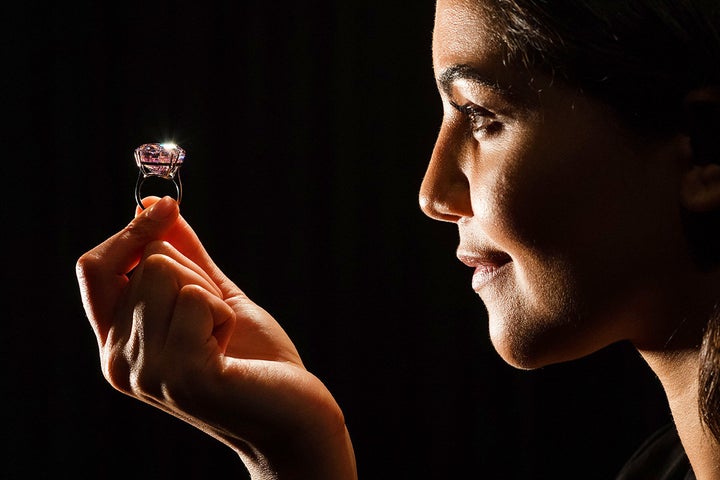 A model displays the "pink star" diamond at Sotheby's in London. At 59.6 carats, the internally flawless fancy vivid pink diamond is the most valuable cut diamond ever to come to auction and will be offered in Hong Kong on April 4 with an estimate in excess of $60 million.
Ian Gavan / Getty Images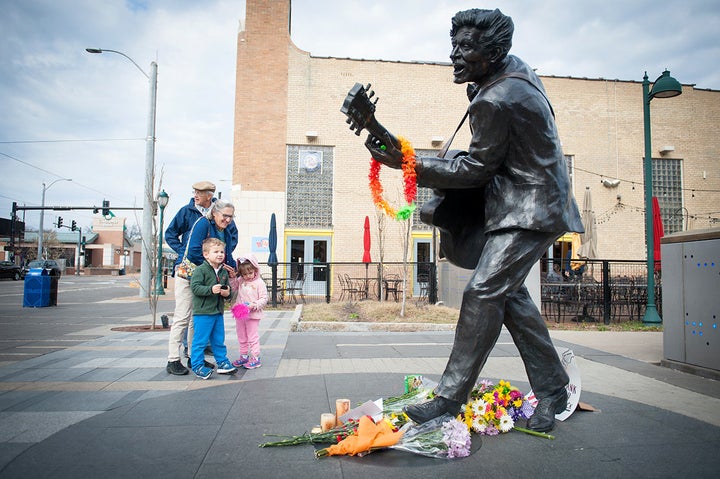 John and Carolyn Hellmuth of University City, Missouri, visit the statue of singer and musician Chuck Berry with their grandchildren, Millie and Maxon. The rock 'n' roll pioneer died on Saturday at the age of 90 at his home in a suburb of St. Louis.
Michael B. Thomas / Getty Images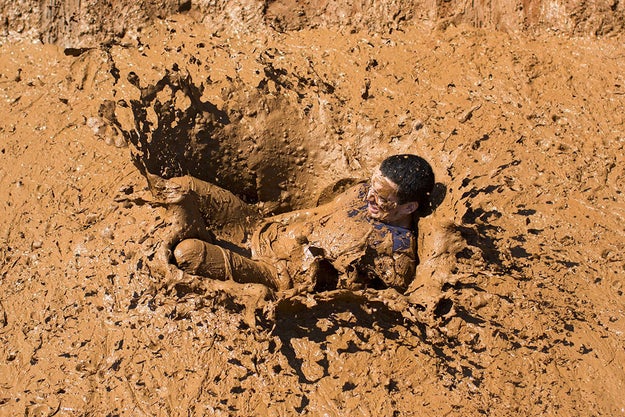 A participant takes part in the Mud Day race, a 13-kilometer obstacle course in Tel Aviv.
AP / REX / Shutterstock
A total of 846 people wrapped themselves in toilet paper at Sydney's Powerhouse Museum to set the world record for the greatest number of people dressed as mummies at a single location.
Don Arnold / WireImage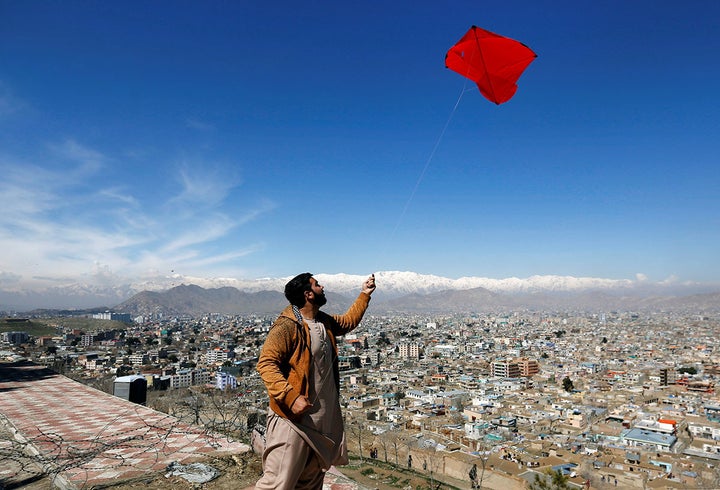 An Afghan man flies a kite on a hilltop during spring and new year celebrations in Kabul.
Mohammad Ismail / Reuters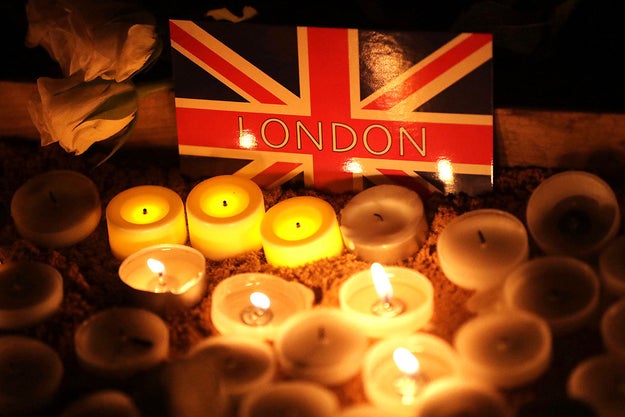 People at Trafalgar Square in London light candles at a vigil for the victims of Wednesday's attack.
Matt Dunham / AP