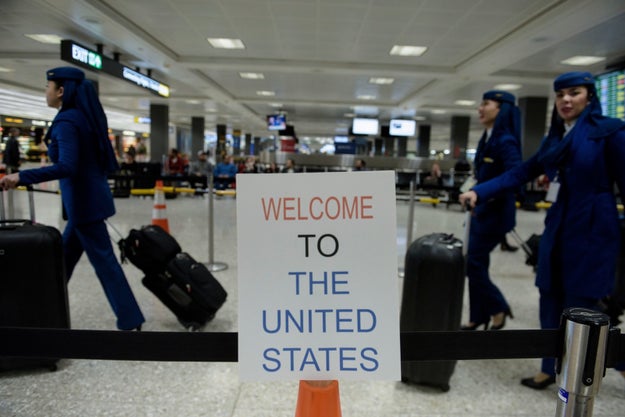 A Saudia airlines crew arrives at Washington Dulles International Airport on February 6, 2017.
Brendan Smialowski / AFP / Getty Images
At least two Middle Eastern airlines are telling passengers that laptops, tablet computers and other electronic devices are no longer allowed as carry-on items in flights headed to the US, citing orders from US authorities.
A representative of Saudi Arabian Airlines, based at JFK International Airport in New York, told BuzzFeed News that the ban begins immediately, and covers all electronic devices, excluding cellphones. They said it applies on flights headed to the US, but not on Saudi-bound flights.
The representative declined to answer further questions and said inquiries should be directed to the TSA.
Royal Jordanian Airlines has informed passengers of a similar ban coming into effect on Tuesday. "Following instructions from the concerned US departments," the airline tweeted, all electronics are banned on US-bound flights, with an exception for cellphones and medical devices.
The Transportation Security Administration referred inquiries to the Department of Homeland Security. A Homeland Security spokesperson told BuzzFeed News: "We have no comment on potential security precautions, but will provide an update when appropriate."
At least 12 Middle Eastern and African airlines will be affected "new security procedures," reported CNN aviation correspondent Jon Ostrower, citing a US official.
JFK-based representatives of Dubai's Emirates Airline and Doha-based Qatar Airways said they had not heard of any changes. BuzzFeed News has reached out to other Middle Eastern and African airlines, and will update this article as responses come in.