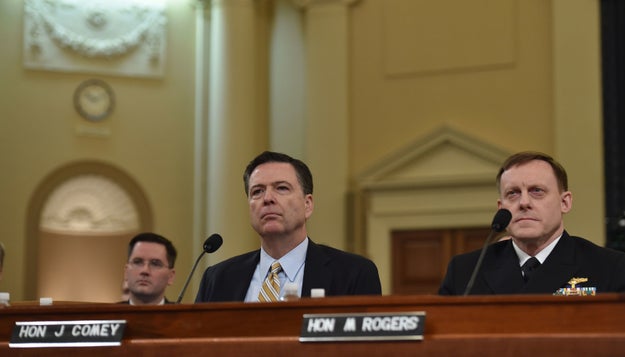 Nicholas Kamm / AFP / Getty Images
FBI Director James Comey said Monday that there's no evidence that former President Obama wiretapped President Trump at Trump Tower during the 2016 campaign — a long-awaited major revelation and a huge rebuke to the Trump, who made the accusation more than two weeks ago.
It was recently reported that Comey thought Trump's claim — made in a series of three tweets with no evidence — was bogus.
"We have no information that supports" the tweets, Comey said. Here's video of that moment.
In the weeks after Trump made the claim both he and his press secretary Sean Spicer frantically tried to backtrack on it. Both tried to suggest that Trump tweeted the word wiretap in quotation marks — he did that only once in three tweets — which implied it could mean any type of surveillance. Both also tried to blame the media — especially a dubious report from a Fox News commentator — as the reason Trump claimed the wiretapping happened.
This is a developing story. Check back for updates and follow BuzzFeed News on Twitter.