Photos
Personalised photo gifts have proven incredibly popular because they enable the gift giver to create their own design using photos and pictures. You can use pictures of people, places, or items and even combine these pictures to create a beautiful looking display. Added to any of the range of photo gifts available, this design can be especially effective as a Valentines Day gift idea by including one or more romantic shots of you and your partner.
Text
Because you're free to create virtually any design that you want, it means that you really can add any type of picture you like. You can also add text and even design elements. Special Valentines Day gift items are designed in such a way that they can naturally include your choice of text message or message of love, while other items can be customised to include a design that you have created yourself. Another alternative is to create a personalised Valentines Day gift card and include this with your personalised photo gift.
Photo Montages
A photo montage is a collection of pictures combined to make one beautiful display. The design can consist of a small handful of pictures, or it can use many photos although the size of the object will typically dictate the ideal number of pictures to include. In the case of Valentine cushions, you can easily include three or four pictures, as well as a text message, and create a stunning Valentines gift.
Special Valentines Cushions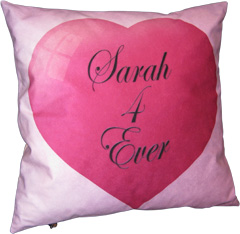 The Love Hearts cushion has been crafted especially for use as a personalised Valentines Day gift. The cushion cover includes a large love heart design and you can add a message of love or the names of you and your partner inside the love heart making a comfortable, practical, and above all romantic gift idea. The Love Hearts cushion is a great gift choice for any celebration but is especially effective for Valentines Day.
Other Photo Gift Ideas
Other photo gifts include canvas prints and photo montages, photo bags, photo blankets and even personalised photo puzzles. Cards and gift boxes can be personalised too and, if you're planning a romantic meal for the two of you then why not have the placemats and coasters personalised with a photo and message of your choice? It will set the scene perfectly for a beautiful, candlelit meal for two.
Personalising Photo Gifts For Valentines Day
Customised Valentines gifts have proven especially popular because they enable the gift giver to choose an item that the recipient will love and then make it eve more appealing through the addition of beautiful and heartfelt designs and messages. The items detailed above are just a small selection of possibilities and with every photo gift item you always have the option of personalising them with your own unique design.