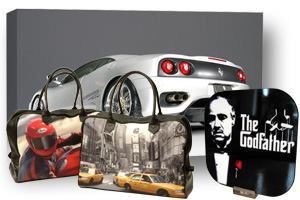 Personalising Gift Items With Photos
The greatest aspect of photo gifts is the level or personalisation or customisation that they offer. If, you find it especially difficult to pick the right gift or you want to do something extra special this Valentines Day then photo gifts are perfect. You can use any picture or photo including pictures of the two of your together or favourite artwork. You can use designs including love hearts and lips, which are typical Valentines designs but will look incredible when combined with your photo.
Adding Text To Your Items
Once you've decided on the picture or pictures to use in the creation of the design, you should also decide whether you want to add any text to the design. Some items do include specific aspects of the design where you can add a text message or greeting but you can add text to any design and have it printed on any of the photo gifts that are available. The more romantic and beautiful the text, the more effective the photo gift is likely to be.
Converting Pictures Before Adding Them To Photo Gifts
As well as using individual picture sand photos to create a unique design, you can convert them in one of several ways. Colour images can be converted to black and white or sepia, or they can be converted into a pop art reproduction. Alternatively, choose a number of your favourite pictures and then have these converted into a single photo montage. The montage can then be added to any photo gift and looks especially effective as a canvas print.
Canvas Prints
The canvas print is the simplest of photo gifts in many respects but is also one of the most effective. A picture is printed on natural canvas; the rough texture of the canvas seemingly gives the picture a three dimensional look that simply can't be achieved by printing on paper or poster paper. The canvas print is also a great use of a montage or pop art reproduction and you can add a text message to the reverse of the picture. Once printed, the canvas will be stretched across a gallery grade frame and spacers added to help retain the rigidity and structure of the whole canvas.
Photo Calendars
Photo calendars are another very popular photo gift item. They naturally lend themselves to the inclusion of multiple pictures and designs. As well as designing the front cover by using a photo and title, you can also design every page of the calendar with a photo and a caption to accompany it. You can have the calendar start in the month of February too and the quality of the materials and printing means that photo calendars will continue to look great for many years to come and not just for the twelve months that it will be used.