Canvas Print
Choose a photo and have it printed on high quality canvas. Natural canvas makes the image appear more lifelike and gives the colours a crisp and realistic appearance. Bespoke canvas dimensions enable you to choose exactly the canvas that you want and a professional design team can help to ensure that the picture you choose is cropped and sympathetically worked before being printed on to the unique canvas print.
Photo Montage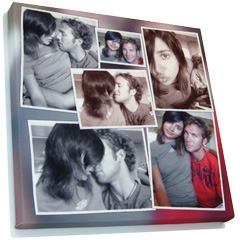 As well as being able to choose a single photo, you can also opt to have a selection of pictures converted into a photo montage. A professional designer will work with any number of pictures that you provide in order to create one beautiful and unique display. This can then be printed on to canvas or it can be applied to any of the other stunning photo gifts that make excellent Valentines Day gift ideas for men. Photo bags, as well as blankets and cushions are among some of the best items for use with a photo montage.
Photo Jigsaw
A photo puzzle, or photo jigsaw, is a fun and inspirational gift. Available in two sizes, your photo is first printed on to the wood before being cut and placed inside the display tin. The tin also includes a picture of the finished puzzle making it easier and more convenient to complete the puzzle. It also means that the recipient can enjoy putting the puzzle out on display to show off the gift you gave them.
Photo Books And Albums For Valentines Day
Photo books and photo albums are among the more traditional photo items that can be used as Valentines Day gift ideas for men. Modern versions are not only better quality than their predecessors but also offer a number of options on how to personalise them and make them even more unique. Covers can be customised while you can design every page of the photo book to create completely unique layouts and styles.
Customising Personalised Valentines Day Gifts
Personalised Valentines Day gifts are such a great choice because of the level of customisation that they offer. You can choose a single photo or a selection of photos and have them printed on to many great looking items. Those listed above are just a small selection of what is available and you can even create unique Valentines Day cards, gift boxes, calendars and more to accompany the gift you give.
Photo Gifts – Ideal For Any Recipient Any Occasion
Photo gifts do make exceptional Valentines Day gift ideas for men but because of the customisation options that they offer they are also ideal for giving to any recipient in order to celebration any occasion or event. You get to choose the design and the message that the gift conveys so the only thing that limits your choice is your imagination.