What Are Personalised Calendars?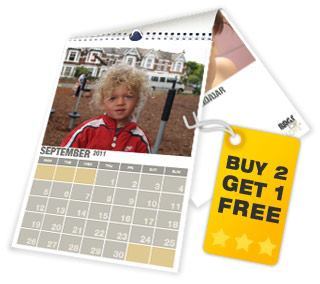 A personalised calendar is exactly – a calendar that has been personalised so that it is an ideal gift for the recipient. You can add your own photos, whether they are of you, the recipient, or the two of you together. In fact, you can add any pictures or photographs you like; you don't need to feel tied down to the inclusion of portrait or group photos. Add pictures of places, objects, or even the recipient's favourite band or sports team.
How Many Pictures Can I Add?
Every single month of the year can be personalised according to your directions. This means that you can add a picture or photograph for each month, giving twelve possible photos. You can also add another for the cover giving 13 opportunities to include pictures of your choice. You can even create a montage of pictures for one or more of the months or the cover so the number of photos used really is up to you.
What Types Of Pictures Can I Use?
Any picture makes a good addition to personalised calendars, although the most effective will be personal to the recipient. As well as using photos of yourselves and the family, you might want to consider using holiday snaps, or even pictures of their prized bike or car. Animal lovers will really appreciate pictures of cats, dogs, horses, or whatever type of animal they like with a heartfelt caption on each page.
Can I Design The Cover?
As well as being able to add photos and captions on every page you can also create the design that is used on the front cover. Add a single photo or an effective montage of images and add the title of your choice to create a beautiful and meaningful cover.
Can I Add Captions As Well?
Every picture that is included can have a caption added underneath it. Whether you use this opportunity to explain what's in the photo or to deliver a loving message that your partner will read every morning is entirely up to you. The greatest thing about personalised calendars as Valentines Day gifts is that you really can dictate every single aspect of the design.
Are There Any Other Personalised Valentines Day Gifts?
Personalised calendars make excellent Valentines Day gifts because of just how personal they are to the recipient. However, calendars are not the only items that can be professionally decorated with your pictures. You can add photos to many items including cushions, blankets, canvas prints, and even posters. For an even greater effect you can have a triptych or series of canvases with a single image spread across them to make a unique and visually stunning piece of wall art.