[ad_1]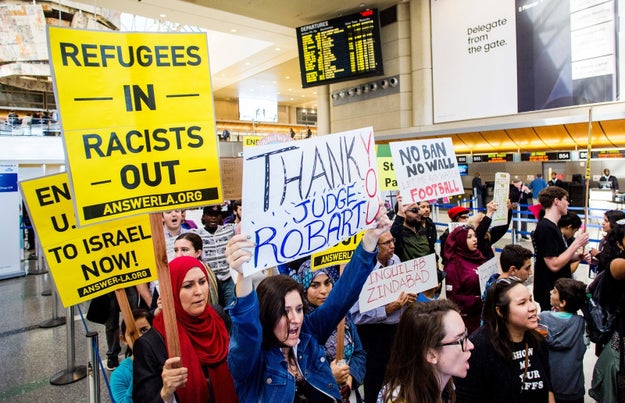 Afp / AFP / Getty Images
WASHINGTON — A federal appeals court will be holding a hearing at 3 p.m. Pacific Time / 6 p.m. Eastern Time over whether President Trump's refugee and travel ban executive order should remain on hold while the legality of the order is hashed out in the courts.
The US Court of Appeals for the Ninth Circuit will be providing an audio livestream of the arguments, which will be before a three-judge panel — providing the chance for people listen in real time to the arguments over the authority of the president, and the courts, on questions relating to immigration and national security issues.
The hearing is over whether the appeals court should issue a stay of — or, put on hold — US District Judge James Robart's Feb. 3 temporary restraining order (TRO). Robart's order halted enforcement of key provisions of the Jan. 27 executive order: the ban on travel to the US from seven majority-Muslim countries and the halt to the refugee program.
At the 9th Circuit Tuesday, Judges William Canby, Richard Clifton, and Michelle Friedland will be hearing the arguments over the Justice Department's request to issue a stay of Robart's order pending the outcome of an appeal of the case. Judges Canby and Friedland earlier denied the Justice Department's request for an immediate stay of the TRO, but set a more full briefing schedule that led to Tuesday's arguments.
Over the past two days, the states of Washington and Minnesota — who are suing the federal government over the order — and the Justice Department, as well as several outside groups, filed briefs with the court over the statutory and constitutional questions at issue in the challenge to Trump's order.
Now, the court will hold an hour of argument time — 30 minutes for each side — over the question. In a media advisory about the hearing, the court announced that a decision "is not expected to come down today," but that a ruling would "probably" come "this week."
The state of Washington's solicitor general, Noah Purcell, is arguing for the states, and August Flentje, from the Justice Department, is arguing for the federal government.
The appeals court generally provides a video livestream of arguments, but the quick turnaround of scheduling for Tuesday's arguments mean that the hearing will actually being taking place over the phone. Friedland, who will be presiding over the arguments, is in San Jose, California; Canby is in Phoenix; and Clifton is in Honolulu.
[ad_2]