1. (1) Indianapolis Colts (10-0)
The oddsmakers had the undefeated Colts underdogs at Baltimore, expecting a letdown after that incredible comeback win over the Pats.  Peyton Manning, however, is never an underdog.
2. (2) New Orleans Saints (10-0)
For the fifth straight contest, New Orleans was not ahead after one quarter of play.  The Saints certainly played a lot better over the final 45 minutes, but they can't afford to get off to a slow start next Monday Night against New England.
3. (4) Minnesota Vikings (9-1)
I'm not happy about it, but Brett Favre has to be near the top of the list of NFL MVP candidates right now.  He leads the league in QB rating (112.1) and has thrown the least amount of interceptions among full-time starters (three).  I'd still go with Manning right now, though.
4. (5) New England Patriots (7-3)
Les Miles' coaching at the end of the LSU/Mississippi game was far worse than anything Bill Belichick did against Indy in Week 10.
5. (3) Cincinnati Bengals (7-3)
The Bengals allowed 10 points in the final minute to drop to 0-10 at Oakland.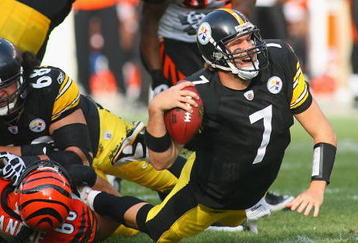 6. (8) Arizona Cardinals (7-3)
Tim Hightower's 110 yards on the ground were the most by a Cardinals running back since Edgerrin James rushed for 114 on Dec. 2, 2007.
7. (9) Green Bay Packers (6-4)
The Packers defense once again did just enough to win.  Green Bay is now 6-0 when it holds its opponents under 30 points.
8. (10) Dallas Cowboys (7-3)
The Cowboys have scored a grand total of two touchdowns over the past two weeks, and yet here they are at 7-3.
9. (7) Baltimore Ravens (5-5)
The Ravens would be doing very well in the BCS.  Their five losses are to teams that are a combined 33-7.
10. (6) Pittsburgh Steelers (6-4)
The Steelers' stunning loss at Kansas City not only knocked me out of my eliminator pool, but it also leaves Pittsburgh with the possibility of starting a third string quarterback in a very important game at Baltimore this Sunday.
11. (12) San Diego Chargers (7-3)
The Chargers have scored in 11 straight quarters.
12. (11) Denver Broncos (6-4)
The Broncos are averaging just 9.25 points a game over their current four-game losing streak.
13. (13) Philadelphia Eagles (6-4)
The Eagles are 3-1 when LeSean McCoy leads the team in rushing.
14. (14) New York Giants (6-4)
All of those people who say NFL overtime rules are unfair because the team who wins the coin toss automatically wins the game must have missed that Pittsburgh-KC contest.
15. (15) Atlanta Falcons (5-5)
Atlanta has now lost six of its last seven on the road.  The Falcons will be happy to hear that their next three are at home.
16. (16) Miami Dolphins (5-5)
Even with Ronnie Brown lost for the season, the Dolphins got a big victory at Carolina on Thursday (thanks to three touchdowns by Ricky Williams), and now have an extra three days to prepare for a very winnable game at Buffalo.
17. (17) Chicago Bears (4-6)
The Bears have lost five of six and have the unenviable task of traveling to Minnesota on Sunday.
18. (18) Jacksonville Jaguars (6-4)
Don't look now, but the Jags have won three straight and have three more winnable games coming up.
19. (19) New York Jets (4-6)
The Jets are 1-5 since Braylon Edwards showed up.
20. (22) Tennessee Titans (4-6)
Chris Johnson is averaging 161.5 yards per game during the Titans' four consecutive victories.
21. (21) Carolina Panthers (4-6)
The Panthers are 2-5 when Jake Delhomme throws a pick.
22. (20) Houston Texans (5-5)
Kris Brown's 71.4% field goal percentage ranks him 26th out of 30 qualifying kickers.
23. (23) San Francisco 49ers (4-6)
The Niners are 1-4 since Michael Crabtree joined the squad.
24. (26) Kansas City Chiefs (3-7)
The Chiefs got a gift when the Steelers decided to call a pitch play on third and two at the KC 35 in overtime.  Instead of putting itself in position to attempt a game-winning field goal, Pittsburgh was forced to punt and Kansas City quickly marched down the field and scored.
25. (28) Oakland Raiders (3-7)
Why did it take this long to start Bruce Gradkowski?
26. (24) Buffalo Bills (3-7)
The Bills would win a lot more games if Terrell Owens was more involved.  Oh wait, he had 197 yards and they still lost.
27. (25) Seattle Seahawks (3-7)
The Seahawks have lost six in a row on the road.
28. (27) Washington Redskins (3-7)
The 'Skins are another member of the Can't Win on the Road Club.  They've lost eight consecutive away from home.
29. (29) Tampa Bay Bucs (1-9)
You can't beat the Saints when you turn the ball over four times.
30. (30) St. Louis Rams (1-9)
The Rams have lost 10 straight home games.
31. (32) Detroit Lions (2-8)
Not only did Matthew Stafford throw for 422 yards and five scores, but one of them came with a separated shoulder and no time left on the clock.
32. (31) Cleveland Browns (1-9)
Brady Quinn had the best game of his short career, throwing for 304 yards and four touchdowns, and yet the Browns still lost.