[ad_1]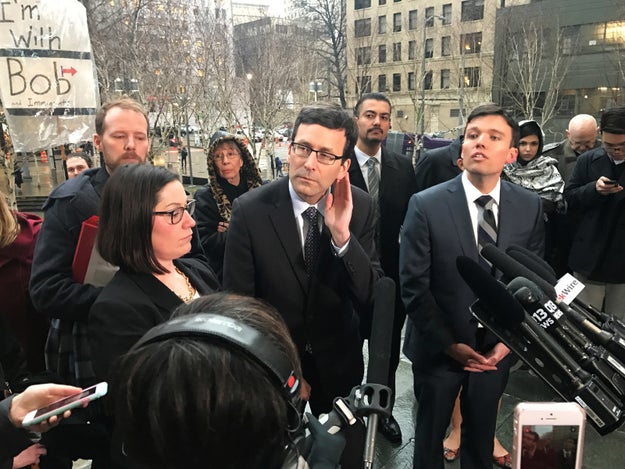 Washington state Attorney General Bob Ferguson, center, speaks to the media next to Washington state solicitor general Noah Purcell, right, outside the U.S. federal courthouse in downtown Seattle February 3, 2017.
Staff / Reuters
WASHINGTON — In overnight filings, the states of Washington and Minnesota, joined by Hawaii, technology companies, former senior foreign policy officials, and civil rights groups laid out the legal case against President Trump's refugee and travel ban executive order.
The filings came in opposition to the Justice Department's request that a Feb. 3 district court order halting enforcement of the executive order be stayed — or put on hold — so the government could restart enforcement of the ban while the case is appealed.
US District Judge James Robart issued a temporary restraining order on Feb. 3, halting enforcement of key provisions of the Jan. 27 executive order: the ban on travel to the US from seven majority-Muslim countries and the halt to the refugee program.
"The effects of the TRO were positive and immediate, as immigration procedures began to return to normal, families reunited, stranded students and faculty began returning to our States, and longtime State residents were able to return to their homes," Washington and Minnesota lawyers wrote. "Defendants now ask this Court to unleash chaos again by staying the district court order. The Court should decline."
The US Court of Appeals for the 9th Circuit denied the Justice Department's request for an immediate stay of Robart's order on Feb. 4, but set a briefing schedule for the request for a stay pending appeal. Opponents of the executive order had filings due by 1 a.m. Pacific Time Monday, while the Justice Department's reply is due by 3 p.m. Pacific Time Monday.
The Ninth Circuit did not set a time for when it will issue a decision on whether to grant the stay.
This is a developing story. Please check back at BuzzFeed News for more.
Read Washington and Minnesota's opposition:
Read the filing from technology companies and other businesses:
Read Hawaii's motion to intervene:
Read Hawaii's opposition:
LINK: Read the Korematsu Institute's filing.
LINK: Read the ACLU's filing.
LINK: Read Americans United for Separation of Church and State and the Southern Poverty Law Center's filing.
LINK: Read the filing from HIAS, Inc., a nonprofit refugee protection organization.
RELATED:
LINK: Top Former US Officials Have Told A Court Trump's Travel Ban Makes America Less Safe
[ad_2]