[ad_1]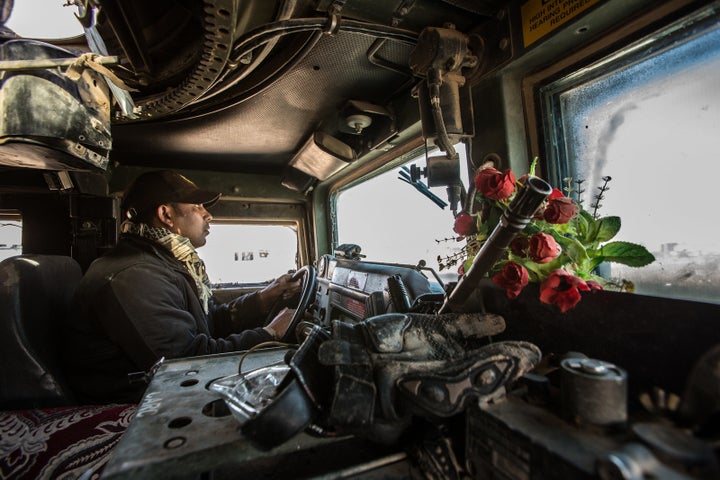 An Iraqi special forces soldier drives a Humvee through eastern Mosul.
Warzer Jaff for BuzzFeed News
MOSUL, Iraq — Ali Subhi has been fighting alongside the U.S. military for more than a decade — so it was "a surprise," the Iraqi special forces soldier said, when he heard word of President Donald Trump's visa ban at his outpost in war-torn Mosul. "Morally, this is wrong," he said. "We have been one team with the Americans since 2003."
Subhi, 29, stood beside one of his unit's U.S.-made armored Humvees inside the city as Iraqi forces continued to cement control over its eastern half on Thursday. He refused to say how many friends he'd lost in the U.S.-backed battle for the ISIS stronghold; the elite Iraqi forces leading it have suffered heavy casualties. Bandages on his face and back covered shrapnel wounds from an improvised bomb. "Trump hasn't done anything against terrorism," he said. "We've been fighting terrorism since 2003. He just became president the other day."
The U.S.-led war on ISIS relies on local soldiers like Subhi to do the bulk of the fighting, working in concert with U.S. military advisors and backed by U.S. airstrikes. The battle to retake this key stronghold from the militants has been the centerpiece of that long and bloody campaign, and Iraqi special forces have led a block-by-block assault in the face of suicide car bombs, snipers and mortar attacks. Two weeks after retaking the last neighborhoods of eastern Mosul, Iraqi troops in and around the city had heard the news Trump's executive order on immigration — which put a temporary ban on visas for seven Muslim-majority countries, including Iraq, and suspended all refugee resettlement in the U.S., all in the name of protecting America from terrorism. They said they were upset to find themselves lumped in with the terror threat despite years of sharing the burden of the U.S. fight with al-Qaeda, ISIS and other adversaries.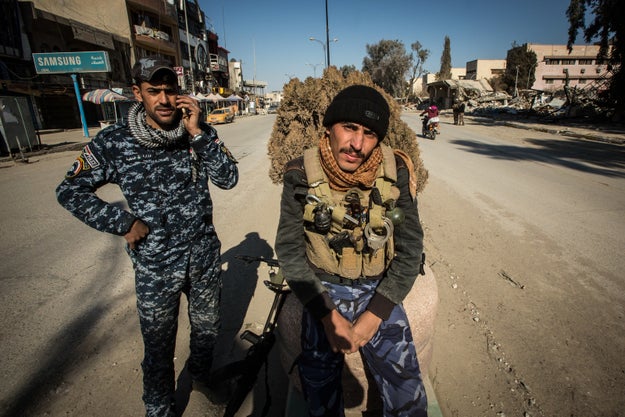 Iraqi federal police in eastern Mosul.
Warzer Jaff for BuzzFeed News
"We are fighting ISIS for every country, not just Iraq," Subhi said.
"It's true that a lot of terrorists are Muslims. But terrorism is not Islam," said Ali Hassan, 36, another special forces soldier in Mosul. "We've been fighting terrorism for a long time, on behalf of everyone in the world. What [Trump] is doing is not right."
"Fuck Trump," a third soldier said curtly, in English, at a base near the city, adding that he had been in the process of applying to resettle in America with the support of recommendation letters from U.S. troops.
So was a soldier who had previously worked as an interpreter with U.S. special forces. He was similarly livid, and worried that his application would be affected — although the Trump administration has issued an exemption for Iraqi interpreters who worked for the U.S. during its occupation as well as their families. "This is bullshit," he said.
Despite their frustration with Trump's order, though, Iraqi troops vowed that it would not affect their deeply rooted partnership with the U.S. military. "For regular Iraqi people, I think their view of America will change, 100 percent," Subhi said. "But for us, it's not going to change anything. Because we know the Americans. We've been working with them since 2003."
He added: "I don't think this represents all Americans. I've seen the demonstrations in America against the decision."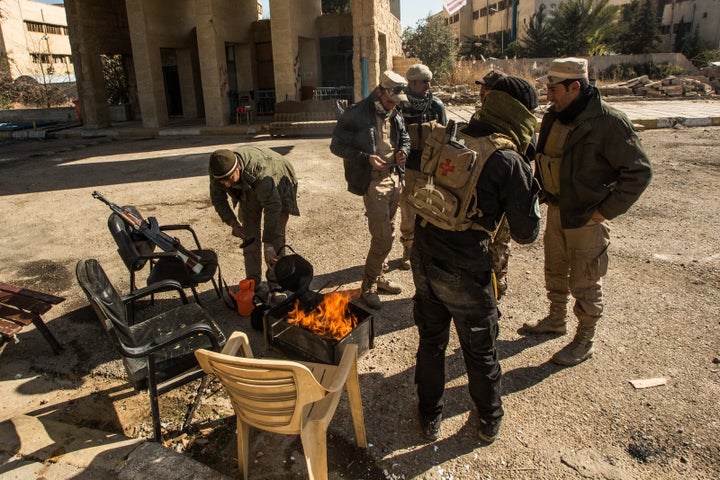 Iraqi soldiers and local militiamen at the gate of Mosul University.
Warzer Jaff for BuzzFeed News
Criticism of the executive order extended to top security officials in the country. Masrour Barzani, who heads the Kurdistan Regional Government's security council, said that Iraqi Kurdish soldiers, another key U.S. partner in the war on ISIS, were likewise concerned at finding themselves swept up in the visa ban. "We are not happy. We are the ones that are fighting ISIS," he said in an interview at the security council's headquarters outside Erbil. "We are fighting the same enemy on the same front line, and I don't think it's right to hold a nation to account for just a few individuals."
He added, in reference to the push for Kurdish independence from Iraq: "We are forced to be Iraqis, and then we are penalized for being Iraqis. So you sort that out."
Civilian life has surged back into eastern Mosul in the wake of the Iraqi advance. Busy markets full of fresh produce lined the roadsides. On streets that recently saw heavy fighting, residents were pushing for a return to normalcy, working around buildings that had been reduced to rubble to reclaim the shops and homes that survived. Civilian traffic — taxis, sedans and commercial trucks carrying supplies — clogged many of the streets. Iraqi soldiers were preparing to regroup ahead of the battle's next phase, which will see them assault the western half of the city on the other side of the Tigris river, where ISIS remains entrenched.
Gen. Abdulwahab al-Saedi, the top commander in the city for the Iraqi special forces in the city, said the only effect the visa ban would have on his soldiers was on their morale. "They're not planning to go to America. It's a psychological thing. If all Iraqi people are prevented from entering a country, that looks as if all Iraqis are accused of terrorism," he said. "We are fighting ISIS on behalf of everybody, including the United States. So the right thing is for the world to support us — with weapons, with politics, in every way. We're bleeding every day out here so the world will be safe."
[ad_2]