[ad_1]

James Macpherson / AP
The acting secretary of the US Army has directed the Army Corps of Engineers to proceed with the easement required to build the Dakota Access Pipeline, a North Dakota senator confirmed Tuesday evening, despite intense protests opposed to the project.
"Today, the Acting Secretary of the Army Robert Speer informed us that he has directed the Army Corps of Engineers to continue with the easement needed to complete the Dakota Access Pipeline," Sen. John Hoeven said in a statement. "Building new energy infrastructure with the latest safeguards and technology is the safest and most environmentally sound way to move energy from where it is produced to where people need it."
Thousands of demonstrators, including members of the Standing Rock Sioux Tribe, have camped out at the Standing Rock site against the pipeline, leading to intense and at times violent confrontations with law enforcement.
Members of the tribe have argued that the 1,172-mile pipeline would damage the water supply and desecrate land the tribe considers sacred.
The group won a brief victory when the US Army Corps of Engineers announced in December it would not grant an easement for the line to cross under a river near the Standing Rock reservation. But work on the controversial pipeline was expected to resume after President Donald Trump signed executive orders last week to revive both the Dakota Access and Keystone XL pipelines.
The US Army did not immediately respond to questions Tuesday night.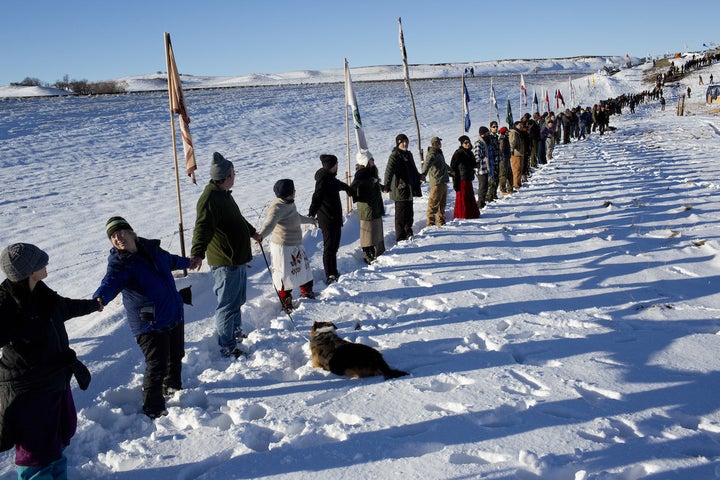 Andrew Lichtenstein / Getty Images
The Standing Rock Sioux Tribe issued a statement shortly after the announcement, saying it was "ready to fight this battle against corporate interest superseding government procedure and the health and wellbeing of millions of Americans."
The tribe also stated that, although the easement is imminent, the Army Corps of Engineers still needed to undertake several steps before actual construction work can begin, including granting the easement and notifying Congress.
"If and when the easement is granted, the Standing Rock Sioux Tribe will vigorously pursue legal action," the statement read.
According to Hoeven's statement, the easement will be issued.
"This will enable the company to complete the project, which can and will be built with the necessary safety features to protect the Standing Rock Sioux Tribe and others downstream," it read.
North Dakota Rep. Kevin Cramer released a statement applauding the decision.
"It's time to get to work and finish this important piece of energy infrastructure enhancing America's energy security and putting North Dakotans and Americans back to work," Cramer said.
The decision, however, will likely again draw hundreds of protesters to the area, and additional law enforcement is expected to be sent to the area in anticipation of protests.
Hoeven said the Department of Justice, Department of Homeland Security and the Department of the Interior have been contacted to "secure additional federal law enforcement resources."
Twenty Bureau of Indian Affairs law enforcement officers have already been sent to the area, the statement read.
LINK: Dakota Access Pipeline Will Be Rerouted In A Victory For Standing Rock Tribe
[ad_2]