The year 2017 has to its credit some of the fantastic game released at the commencement of the year. There are may more in the pipeline which are quite luring and much awaited. So, without a much ado, browse through our list of top 7 games to play and epic gaming laptops that have made headlines.
Resident Evil 7

The next chapter of the most popular game – "Resident Evil" franchise is expected to be released on January 24, 2017. As per the sources, the game is all set to startle its audience with a brand new story-line and in-game characters. The next part will portray an altogether different route by traversing you back to its survival horror roots. The game will be available on Steam platform.
Gaming Laptop: MSI GT80 2QD Titan
The MSI GT80 2QD Titan can be called as the gamers' fantasy. It is the ultimate gaming laptop money can buy. With a top rated hardware components like the Nvidia GeForce GTX 970 in SLI (6GB) GPU, killer WLAN, fully functional mechanical keyboard, 18.4-inch screen with 1080p resolution, Intel Core i7 processor, 16GB RAM, 1TB HDD, 256GB SSD, and back-lit keyboard, etc. the gadget is bit pricey and available for Rs 2,31,571 in India.
Mass Effect Andromeda

The Mass Effect Andromeda is an action game from Bioware based on Origin platform. It is a highly anticipated sci-fi franchise. The game will include a brand new story set wherein the player shall be sent to Andromeda galaxy to explore new planets where humans can colonize. The game is said to be released in March this year.
Gaming Laptop: Alienware 17 (2015)
How can we forget the Alienware range of laptops from Dell when it comes to gaming? With its latest Intel Core i7 6th Gen processor paired with Nvidia GTX 980M GPU and 16GB of RAM, the Alienware 17 offers an impressive design and packaging at the price of Rs 2,10,000.
South Park: The Fractured But Whole

If you love a blend of RPG (Role playing game) and Action gaming, then you will surely love the "South Park: The Fractured But Whole". It has all the facets of a superhero movie and South Park. The game is based on "The Stick of Truth", however, "the Fractured But Whole" has eliminated the fantasy theme and instead added superheroes to it. It will release in early 2017.
Gaming Laptop: MSI Ghost Pro 6QE GS60
MSI Ghost Pro 6QE GS60 laptop packs a little less hardware than the Titan but is powerful enough to handle all your gaming needs. It boasts the all new 6th Gen Intel Core i7 chip paired with 16GB of RAM and Nvidia GeForce GTX 970 GPU (3GB). The laptop offers a Killer WLAN, customizable RGB lighting keyboard, 1TB of HDD, and 128GB of SSD storage. The laptop is priced at Rs 95,000.
Tom Clancy's Ghost Recon Wildlands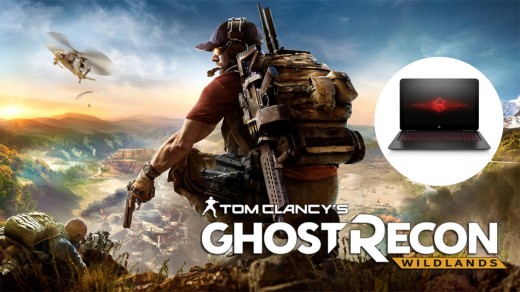 Here is the best action adventure shooting game that will sive you into a dense Bolivian landscape where the beauty of the game seems endless. Scheduled to release on March 7, 2017, the game will be available on Steam platform.
Gaming Laptop: HP Omen
HP Omen is a sleek and stylish gaming laptop powered by an Intel Core i7 processor coupled with Nvidia GeForce GTX 960M GPU, and PCI-e based SSD. It is the perfect looking and lightweight gaming laptop priced at Rs 1,58,000.
For Honor

For Honor is an action game developed by Ubisoft Montreal. Carve a path of destruction through an intense, believable battlefield. The chaos bunches around the center enemies, the warlord named Apollyon and across the world of three groups. The game will release on February 14, 2017, and will be available on Steam platform.
Gaming Laptop: Lenovo Y700
Lenovo has refreshed its Y series of laptops with the Y700 at IFA last year. The Lenovo Y700 is a 17.3-inch laptop powered by 6th Gen Intel Core i7 and 4GB Nvidia GTX 960M GPU. The laptop is available at a price of Rs 1,25,000.
Quake Champions

The Quake Champions is a fast, skill-based arena-style competition game. It is the next installment of Quake 3 Arena which turned the original Quake games into multiplayer legends and was the epic first-person shooter franchise. The Qualke Champions is a DOOM game with no holds barred multiplayer experience.
Gaming Laptop: Alienware 15 (2015)
Alienware 15 is a 17-inch model equipped Nvidia GTX 965M 2GB GPU for its base variant and if you wish to invest more then you can get GTX 970M and 980M GPUs from Nvidia in Alienware 15 as well. The laptop is accelerated by Intel 6thGen Core i7 processor and comes with 12GB and 16GB of RAM options. It is available for a price of Rs 1,70,000.
Sniper Elite 4

The Sniper Elite 4 will pick you up just where the previous edition of game left you off. It is set in Italy of 1943 where the battle of WorlD War II continues. The gamers will require using their elite sniper skills to beat the enemies. The game will be available on Steam on February 14, 2017.
Gaming Laptop: Asus UX501JW
The Asus UX501JW is a thin and light gaming laptop with Aluminum body. It features a 15.6-inch UHD display powered by Intel Core i7 4720HQ processor, 2GB Nvidia GTX 960M GPU, 16GB of RAM, and 512GB PCI-e based SSD. The laptop is available in India at a price of Rs 1,15,000.