[ad_1]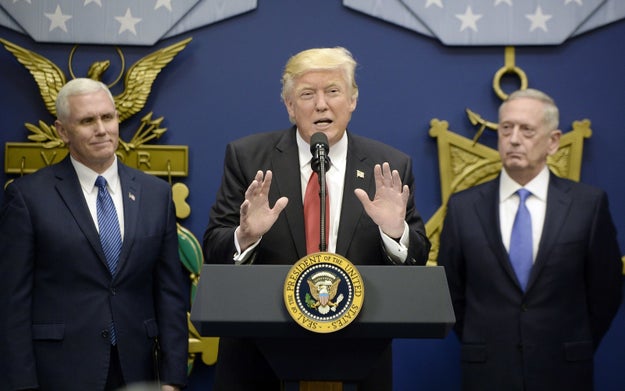 Pool / Getty Images
Wall Street Journal editor-in-chief Gerry Baker has instructed editors to stop referring to the countries targeted in President Trump's travel and refugee executive order as "seven majority Muslim countries" in news coverage, a move that has irked some reporters in the paper's Washington bureau.
"It's very loaded. The reason they've been chosen is not because they're majority Muslim but because they're on the list of countries Obama identified as countries of concern," Baker wrote to top editors in an email obtained by BuzzFeed News.
The seven countries are Iraq, Iran, Somalia, Sudan, Syria, Libya, and Yemen.
During his campaign, Trump called for a "total and completely shutdown of Muslims" until US officials could "figure out what is going on." The administration has maintained that the executive order is "not a Muslim ban," but rather an effort to prevent the entry of "radical Islamic terrorists."
"Would be less loaded to say 'seven countries the US has designated as being states that pose significant or elevated risks of terrorism,'" Baker wrote in the email.
"We shouldn't be swallowing the administration's talking points uncritically. I get the point he was making but that's not the way to do it," a Journal reporter said.
A spokesperson for Dow Jones, which owns the Wall Street Journal, did not immediately return requests for comment. Baker did not immediately return a request for comment.
Baker's note was in response to a WSJ story posted late Monday about the White House's firing of acting Attorney General Sally Yates after she ordered Justice Department lawyers to not defend the executive order in court.
An updated version of the story includes the following paragraph: "The administration has said the travel ban doesn't represent a religious test, noting there are dozens of Muslim countries that aren't affected. Critics have denounced it as targeting Islam because the seven countries — Iraq, Iran, Somalia, Sudan, Syria, Libya and Yemen — have majority populations of Muslims. The administration notes that the seven countries were initially identified by the Obama administration as posing significant security risks."
Note: This reporter, Steven Perlberg, most recently worked for the Wall Street Journal before joining BuzzFeed News.
[ad_2]