[ad_1]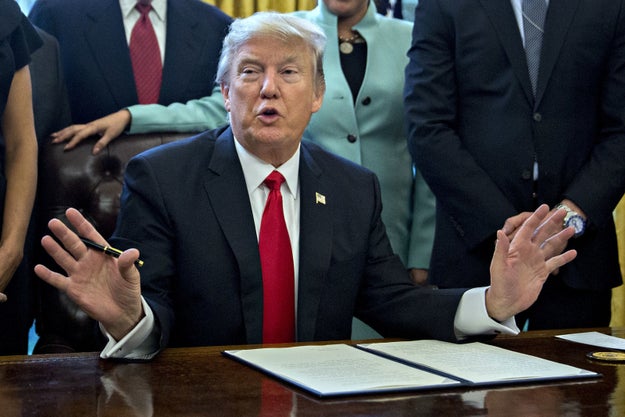 Pool / Getty Images
President Trump on Tuesday said his administration will continue to enforce Obama-era workplace protections for LGBT workers and contractors.
"The President is proud to have been the first ever GOP nominee to mention the LGBTQ community in his nomination acceptance speech, pledging then to protect the community from violence and oppression," a statement from the White House reads. "The executive order signed in 2014, which protects employees from anti-LGBTQ workplace discrimination while working for federal contractors, will remain intact."
Obama's 2014 executive order was the first to offer explicit nondiscrimination protections based on gender identity to federal workers and the first to ban discrimination in federal contracts for all LGBT people.
Trump's move isn't without precedent: President George W. Bush continued to enforce a 1998 executive order signed by President Bill Clinton that banned discrimination on the basis of sexual orientation in the federal workforce.
Trump's statement comes after rumors on Monday that Trump would sign a separate religious freedom order that could curtail some of Obama's LGBT protections — it could allow, for example, federal officials refuse to comply on religious grounds. Trump's staff did not rule out such an order.
Human Rights Campaign's senior vice president for policy and political affairs, JoDee Winterhof, issued a statement on Monday calling rumors "deeply troubling," adding that the LGBT group is "prepared to fight tooth and nail against every effort to discriminate."
That led to a question during Monday's daily briefing with Press Secretary Sean Spicer, where we was asked if Trump was "about to sign a religious freedom executive order that would undermine LGBT rights."
"I'm not getting to head ahead of executive orders we may or may not issue," Spicer said. "There is a lot of executive orders a lot of things that the president has talked about and will continue to fulfill but I have nothing on that front."
[ad_2]