There are tons of counterfeit silver Judaica items offered.  Don't be fooled!  How do you know if it's a fake?
The items are usually claimed to be Russian and from the 1800s.  Think about it:  how many of these items would have survived the pogroms and the Holocaust?  If they did, they would be museum pieces, not offered at auction for a few hundred dollars or less.
Common counterfeit items include:  circumcision clamps, yads (Torah pointers), besamim (spice) boxes, fancy marriage rings and figurines ("chess pieces").   Who would fake a circumcision clamp?  I don't know, but several are for auction as I write this review.
The items typically look new and polished, although sometimes there is a fake patina.  Consider this:  these antique items were meant to be used on a regular basis.  They should have signs of wear and dents.  If they look new, they are new!
The same types of items are auctioned over and over again.  How many times can the same seller auction a supposedly "rare" item?
The stamped fake hallmarks are almost always the same or very similar.  Usually there's a date in the 1800s.  After a while, you will immediately recognize the fake hallmarks without difficulty.
To add further insult, many of the items incorporate sad-looking, so-called Jewish figures ("rabbis").  Why would a Jewish person buy a pathetic caricature for themselves?
Don't be fooled!  Look at the seller's feedback to learn what he or she has sold before.  If they have sold several of these "rare" items before, ask yourself how the seller obtained so many of them.  Another clue:  many of these auctions hide the bidders' names in "private" auctions.  This is so watchdogs such as me cannot contact the buyers.
A new strategy is to offer the item to losing bidders as a "second chance" once the auction is completed.  The seller has several copies of the counterfeit item and is using this strategy to unload them. 
It is disheartening to see these sellers repeatedly offer counterfeit items.  If we don't bid on them, perhaps they will stop.  If you have any questions, please contact me.
Addendum:  since the time I first wrote this guide, there are less counterfeits being sold on the US eBay site.  However, I have discovered many more counterfeits on the European site, mostly from German sellers.
Below, this ring is offered over and over again as a marriage ring from the 1800s.  Look again:  it's shiny and new.  They usually sell on eBay for 50 to 150 dollars.  A real one would cost thousands, if you could find one.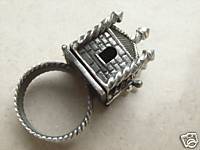 Fake circumcision shield–the slot is much too wide to perform a circumcision.  I once bought one out of curiosity.  It was very flimsy and could not be used for any procedure.  These are sold over and over again on eBay.  They are typically shiny and unused.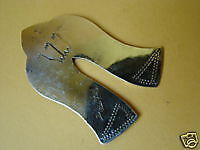 Here's another fake circumcision shield from the same vendor.  Where did he get the truckload of shields?  Again, the slot is much too wide to work.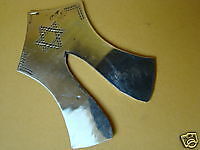 This filigree, so-called besamim (spice) holder appears on eBay from time to time.  Each one may have some variations, but they always look new and are claimed to be "rare" antiques.  There may be a slim, boyish figure holding up the container.  At other times, the figure may be a sad "rabbi."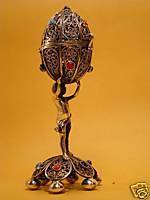 Here is a close-up of the hallmarks on the above besamim holder.  These are the typical counterfeit Russian hallmarks.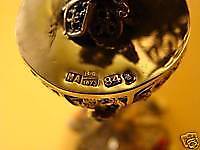 Here are the sad "rabbis" holding up the besamim container.  They look more like Star Wars figures.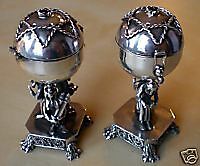 This was advertised as a kiddush (wine) cup.  I give the auctioneer credit for creativity.  If you turn the item over, it becomes a fake Jewish "chess piece!"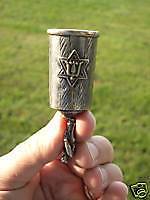 Here is another fake besamim (spice) holder.  This seller always seems to have one available for auction.  How rare can it be?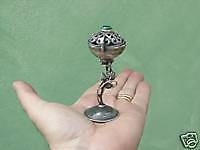 Finally, here's a real laugh.  This was listed as an antique silver jewelry box.  Now tell me:  how antique can a COMPUTER be?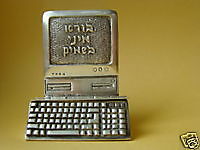 I hope you enjoyed this guide and have found it helpful.
–bobmeyer99
New!  Go to auctiontrack to see past Judaica auctions. 
This is an eye-opener:
http://auctiontrack.bobmeyer99.com
Here's another link about counterfeit Judaica:
http://circcentral.bobmeyer99.com
To read this guide in German/zum Lesen dieser Anleitung in Deutsch: 
http://reviews.ebay.com/Fake-gefaelschte-Judaica-ACHTUNG_W0QQugidZ10000000010529303