[ad_1]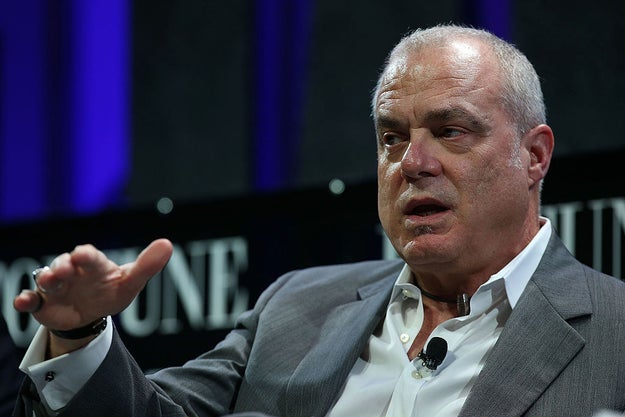 Aetna chairman and CEO Mark Bertolini.
Justin Sullivan / Getty Images
America's second-largest health insurance company stopped offering coverage to hundreds of thousands of people as part of a legal strategy to avoid government scrutiny of a planned merger, a federal judge said in a ruling today.
Aetna withdrew from health insurance exchanges in 17 counties in Florida, Georgia and Missouri after the Department of Justice said competition in those markets would be harmed by the company's $37 billion planned merger with rival Humana. The withdrawal was part of a wider move that saw Aetna pull coverage from almost 550 counties in 11 states.
The health insurance giant said it exited the exchanges purely for business reasons, having lost a total of $420 million due to plans sold through the marketplaces. But in a ruling blocking its merger with Humana today, D.C. District Court judge John Bates said it was also done as a legal maneuver.
Aetna had previously warned the Justice Department that if it attempted to block the merger, "we will immediately take action to reduce our 2017 exchange footprint", according to a letter from CEO Mark Bertolini that was first unearthed by the Huffington Post.
"Aetna was willing to offer to expand its participation in the exchanges if DOJ did not block the merger, or conversely, was willing to threaten to limit its participation in the exchanges if DOJ did," Judge Bates said Monday.
"This is persuasive evidence that when Aetna later withdrew from the 17 counties, it did not do so for business reasons, but instead to follow through on the threat that it made earlier."
An Aetna spokesperson said the company is "reviewing the opinion now and giving serious consideration to an appeal after putting forward a compelling case."
Aetna and Humana announced their deal to merge in July, 2015, and the Justice Department sued to block the merger almost exactly a year later. The DOJ argued the deal would reduce competition in the health insurance market, with fellow industry giants Anthem and Cigna also proposing a merger, which the Justice Department also sought to block.
While many companies give up on deals once the government threatens to block them, Aetna and Humana fought the Justice Department in federal court, leading to a today's opinion.
Cigna and Anthem also took their case to trial, with a ruling expected soon.
Monday's ruling cited internal documents showing Aetna was planning to withdraw from many health insurance exchanges for business reasons. But it said that on the day the Justice Department sued to block the merger, "Aetna employees were instructed to gather information regarding the 17 complaint counties."
The next day, Aetna's exchange business head, Fran Soitsman, emailed staffers saying "by the way, all bets are off on Florida and every other state given the DOJ rejected our transaction."
The emails specifically show Aetna executives confirming that Humana was present in those 17 counties, which, an executive said "makes it easy we need to withdraw from those."
While there was a legitimate business reason for much of Aetna's withdrawal form the individual Obamacare market, the judge ruled that "the team of executives did not evaluate the profitability of the 17 counties in the same manner as it did for the other states from which Aetna was considering withdrawal." One Aetna executive "testified that the team never assessed the profitability of Aetna's individual business in the 17 complaint counties."
When Aetna said it was leaving the Florida counties, its own Florida exchange head said in an email, ""I just can't make sense out of the Florida decision . . . Never thought we would pull the plug all together. Based on the latest run rate data . . . we are making money from the on-exchange business." An Aetna executive responded by saying they should discuss it on the phone. The executive later testified in the trial, "these requests for phone calls were an attempt to avoid leaving a paper trail."
[ad_2]