[ad_1]
We got that red lip, classic thing that you like.
Macey J. Foronda / Alice Mongkongllite / BuzzFeed
If you've ever just searched "red lipstick" online, you know how damn confusing it can be to choose one. You'll find a ton of "rules" to picking your perfect shade and honestly, we're calling BS.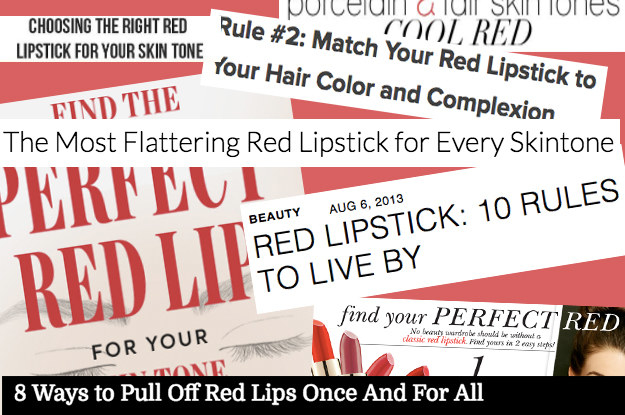 youbeauty / ellecanada / thehairstyler / theeverygirl / aol
So we (Erin, Lauren, Sheridan, and Nina) tested four lipsticks in different shades of red to see if any of those rules really matter.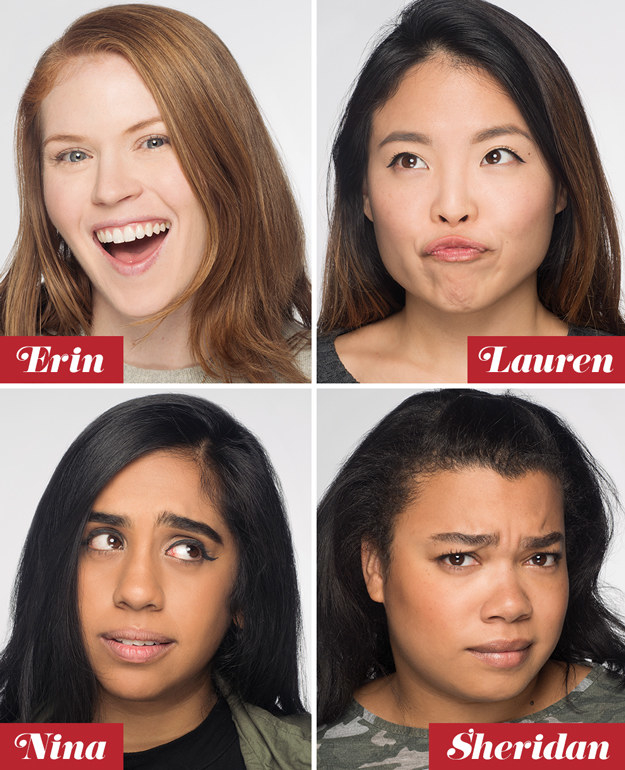 Erin: Taylor Swift and I would have very little in common with our makeup kits, in that hers seem to exclusively feature red, while mine is devoid of it. Redheads are often taught that red lipstick will clash with our red hair, so I've actively avoided the shade for many years. Recently I found a red I love by Christian Dior, though, so I did wear that on my wedding day.
Lauren: I don't really like my lips that much, so I've always been too intimidated to confidently pull off red lipstick. I feel like it attracts so much attention to my least favorite facial feature, and it's just a way bolder look than I'm used to.
Sheridan: I'm obsessed with red lipstick — I think it can take a boring outfit to 100. And since I spend a lot of time in sweatpants, it really helps balance out my look. I just think it's one of those things that instantly makes you feel more glamorous.
Nina: Alas, I do not have that "red lip, classic thing" that people like. I rarely wear lipstick in general, and when I do it tends to be burgundys and purples and wine-ish colors.
Macey J. Foronda / Alice Mongkongllite / BuzzFeed
Here is a quick guide to the lipsticks we used (ALL FROM THE DRUGSTORE!) and what undertones they are apparently best on.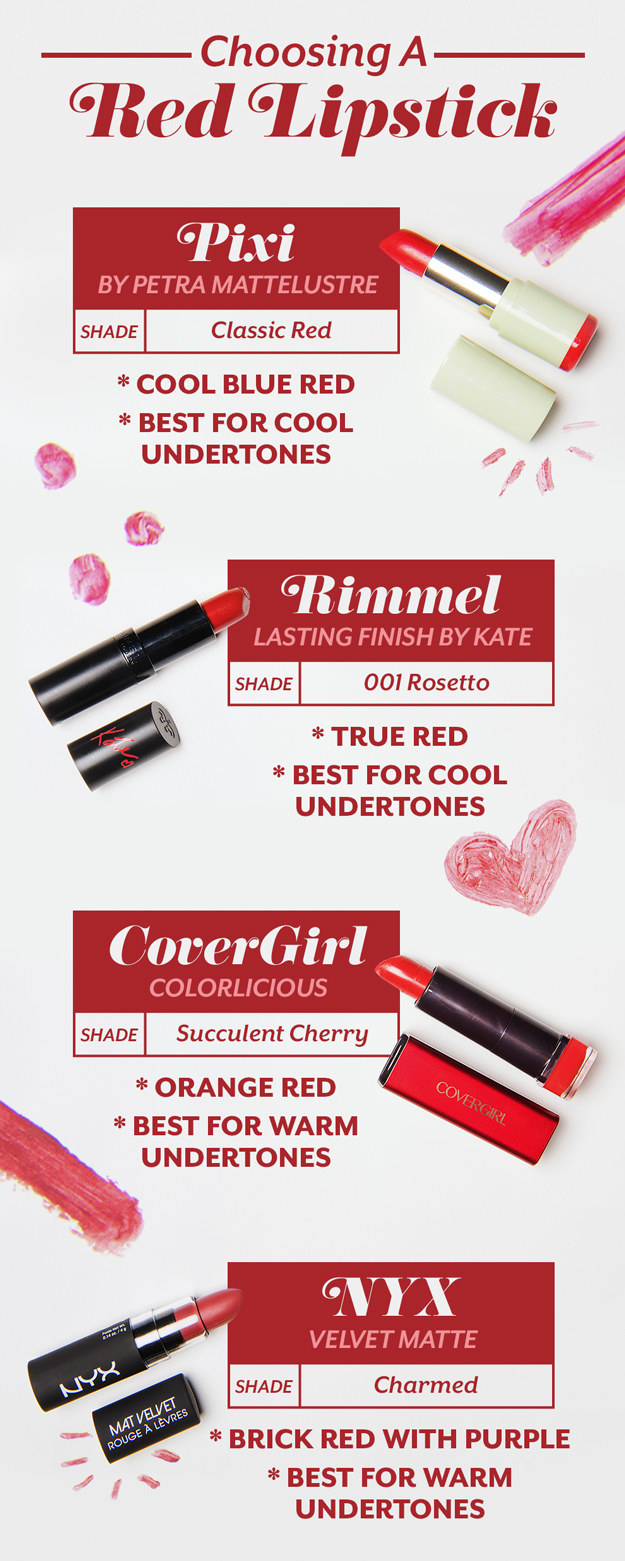 Here are the lipsticks we tried:
Pixi By Petra Mattelustre Lipstick (Classic Red) – $12
Rimmel Lasting Finish by Kate Moss Lipstick (001) – $4.39
COVERGIRL Colorlicious Lipstick (Succulent Cherry) – $5.99
NYX Velvet Matte Lipstick (Charmed) – $7
To find your undertone, look at the veins on your wrist. If they're:
Blue, you have cooler undertones.
Green, you have warmer undertones.
Supposedly, blue-reds and pink-reds look best on people with cooler undertones, and orange-reds and brown-reds look best on warmer undertones.
Macey J. Foronda / Alice Mongkongllite / BuzzFeed
---
[ad_2]