[ad_1]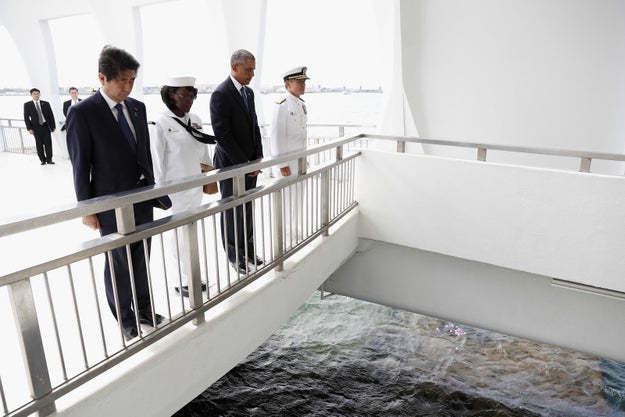 President Obama and Japanese Prime Minister Shinzo Abe pause after tossing flower petals into the Wishing Well at the USS Arizona Memorial.
Carolyn Kaster / AP
HONOLULU — Japanese Prime Minister Shinzo Abe on Tuesday made a historic pilgrimage to the site where, 75 years earlier, his nation's Imperial Navy carried out a surprise attack that killed 2,400 Americans and plunged the US into World War II.
Abe did not offer an official apology for the attack on Pearl Harbor, but did say "we must never repeat the horrors of war again."
It was the first time a sitting Japanese prime minister had visited the memorial.
"I offer my sincere and everlasting condolences to the souls of those who lost their lives here, as well as to the spirits of all the brave men and women whose lives were taken by a war that commenced in this very place," Abe said in Japanese as President Obama stood beside him on Kilo Pier near the USS Arizona Memorial, where 1,177 servicemen were killed and most of them remain entombed.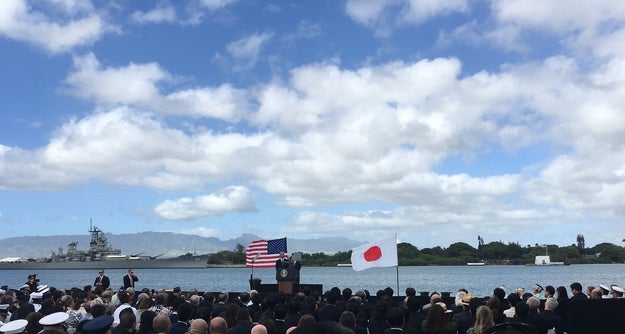 Michelle Broder Van Dyke / Via BuzzFeed News
Abe's offer of condolences was similar to what Obama had done in May when he became the first sitting US president to visit Hiroshima, Japan, where one of two atomic bombs were dropped by the Americans.
Before speaking at the ceremony, Abe laid a wreath of lilies inside the USS Arizona Memorial that was built in 1962 above the sunken battleship, which leaks oil into the harbor to this day.
"It's a place which brought utter silence to me," Abe said. "I cast flowers, on behalf of Japanese people, upon the waters where those sailors and Marines sleep."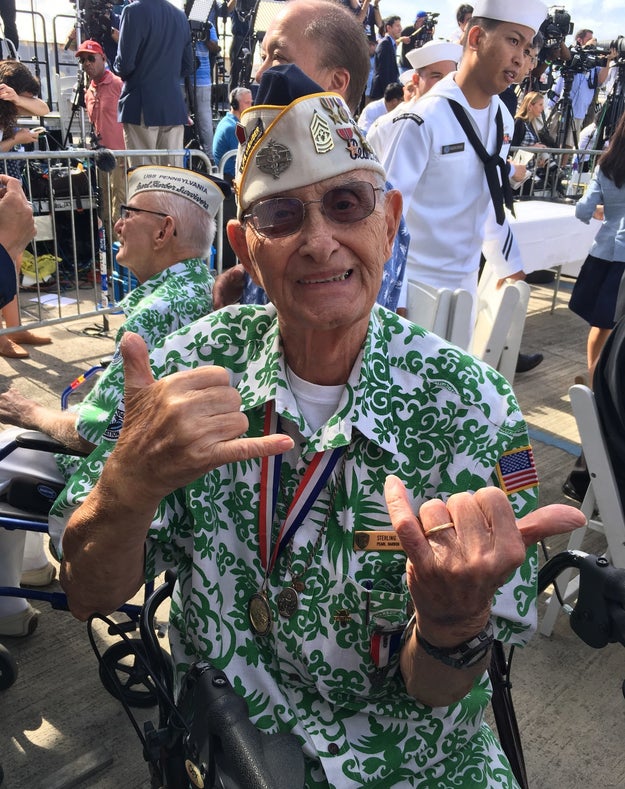 Sterling Cale.
BuzzFeed News
The lack of official apology had been expected, but the visit was welcomed nonetheless.
"We didn't say sorry for Hiroshima — I don't expect him to say sorry," 95-year-old Pearl Harbor survivor Sterling Cale told BuzzFeed News.
After the attack on Dec. 7, 1941, Cale helped remove the dead from the USS Arizona, which required scuba diving. Only about 100 men were removed and identified from the ship, while the others remained trapped underwater.
Cale said that Obama and Abe putting a flower wreath on the USS Arizona Memorial was what made him happy.
"It's better than saying it, because you can see it," Cale said of the wreath.
Cale was one of three Pearl Harbor survivors at the event, all of them in their 90s.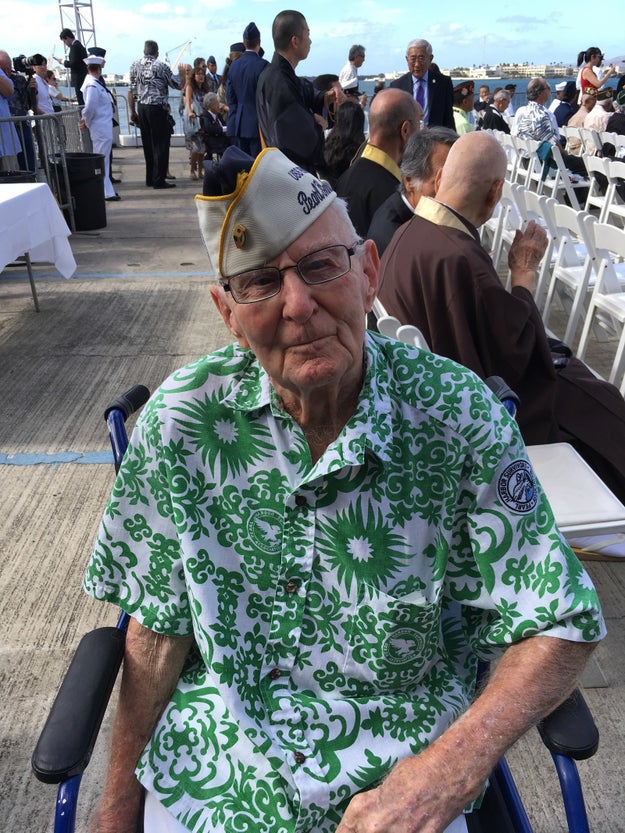 Everett Hyland.
BuzzFeed News
"There's nothing to apologize for, he wasn't even born," Everett Hyland, a 93-year-old Pearl Harbor survivor, told BuzzFeed News.
Hyland, who was just 18 when Pearl Harbor was attacked, said a bomb hit the USS Pennsylvania where he was stationed, creating a fireball that burned his face, arms, and leg, as well as impaling him with shrapnel.
"I was a medical challenge, but I'm here," he said.
Hyland added that if people learned anything from the event, he hoped it would be "what a waste of time war is."
The Japanese prime minister's decision to visit the historic site in Hawaii points to his continued interest in expanding Japan's role in Asia-Pacific defense as the island nation faces increased threats from China, North Korea, and elsewhere.
After World War II, Japan's new constitution, imposed by the US, included a pacifist clause that greatly limited any military action, but Abe has been pushing to allow Japan's self defense forces to act more like a conventional army.
It's not clear how a Donald Trump presidency will affect relations with Japan, as he has criticized the nation several times on the campaign trail for not paying for self defense measures. He has also posted on Twitter, asking why Obama hasn't been more critical of Japan regarding the attack on Pearl Harbor.
LINK: Related: Here's What People In Hawaii Want To Tell The Prime Minister Of Japan
LINK: Related: The Last Living Survivors Of The Pearl Harbor Attack Were Honored In An Emotional Commemoration
[ad_2]