[ad_1]
Music meets ink.
This simple reminder of a childhood lullaby: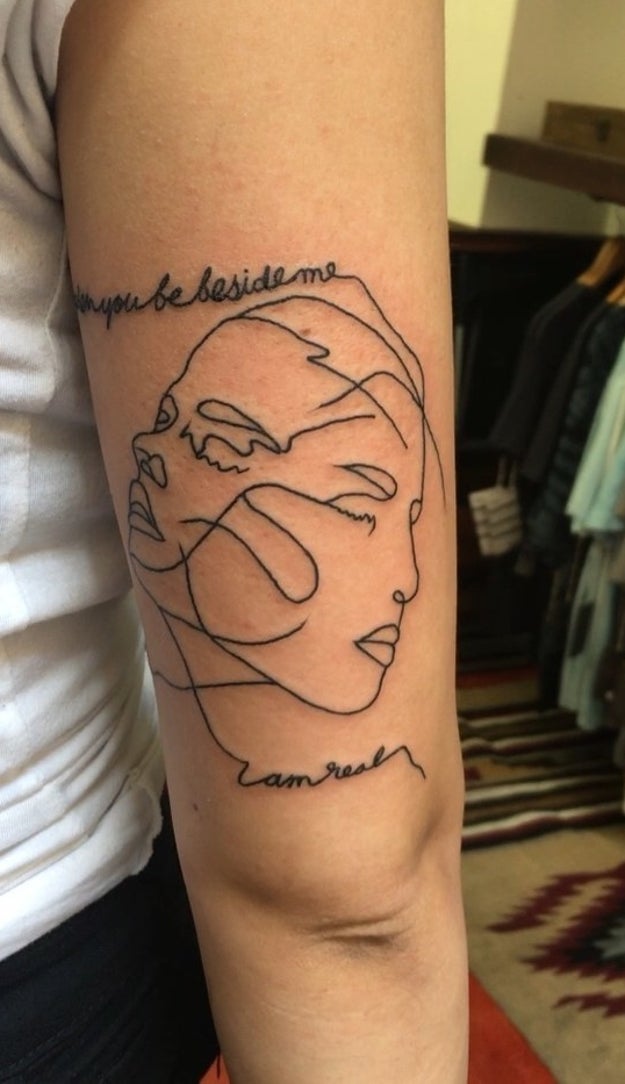 "This tattoo is inspired by Bruce Cockburn's 'Love Song.' My mom used to sing it to me as a lullaby when I was growing up. The faces symbolize the two of us, and I'm hoping I'll sing the same song to my kids someday."
—bratmobile
This tattoo showcasing how music can make you feel: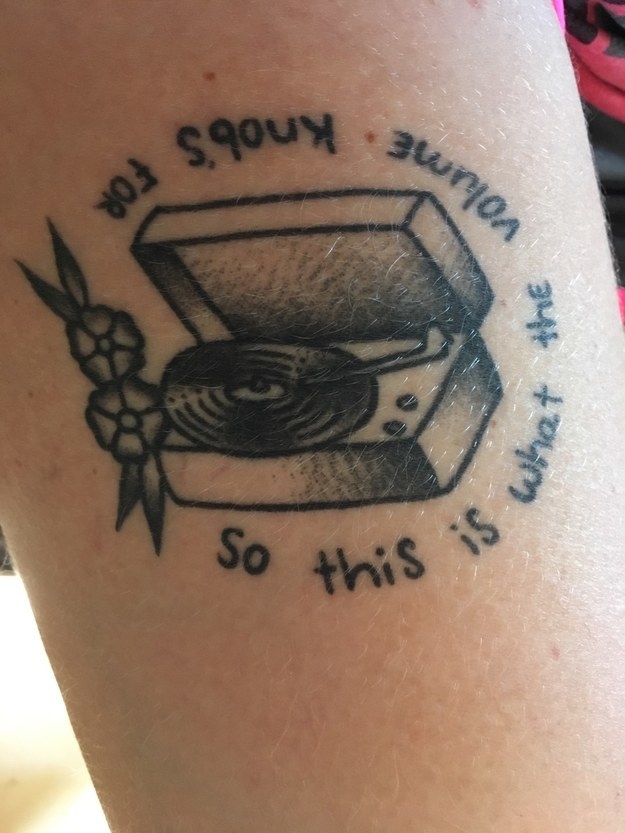 "This is a lyric from the Mountain Goats song 'Dance Music.' The line is so simple, but it's always stuck out to me as the reason why so many people turn to music: to escape and find relief."
—meganj45c2b9b47
This music-inspired act of rebellion: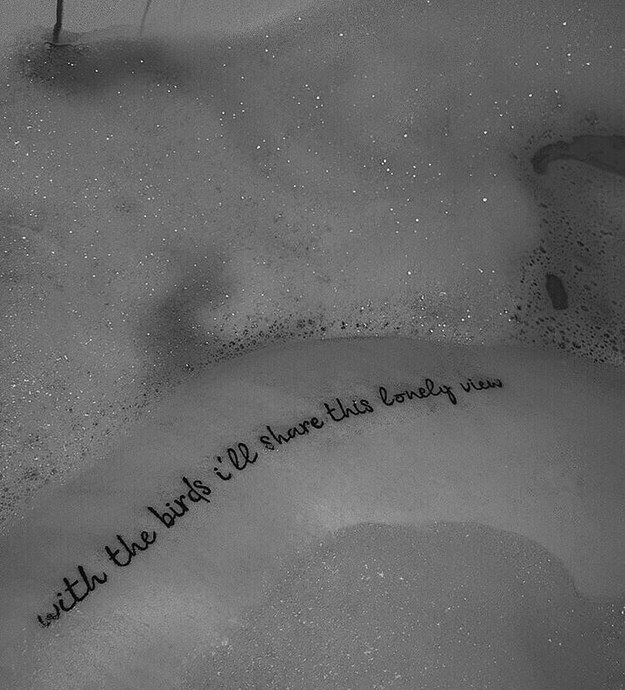 "I grew up listening to 'Scar Tissue' by the Red Hot Chili Peppers, and this was the part of the song that always stuck with me. Being a rebellious 15-year-old, I ran to a tattoo shop with my older friend and got it inked on me. I have to give my younger self a pat on the back because it's still my favorite tattoo to this day."
—jocilynr
This inked memorial to David Bowie: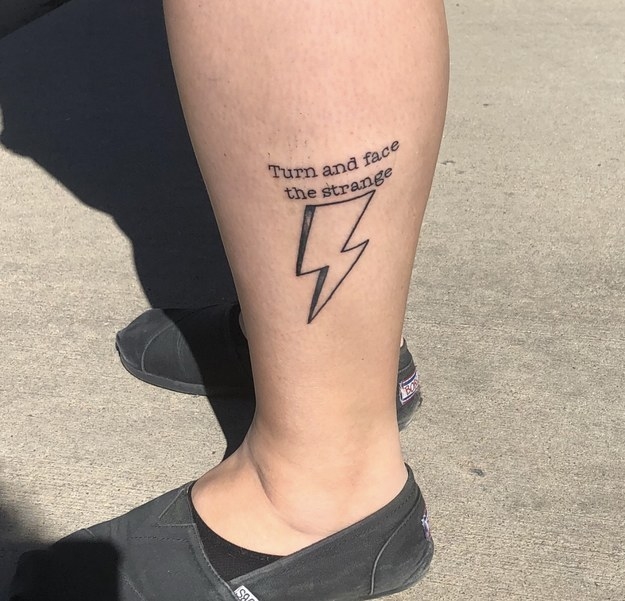 "I got this in honor of David Bowie. He's been my favorite singer since I was young. This quote always reminds me to face the changes in life head on and not to shy away from them."
—kristinec4c2b59a57
And this tattoo honoring David Bowie's iconic legacy: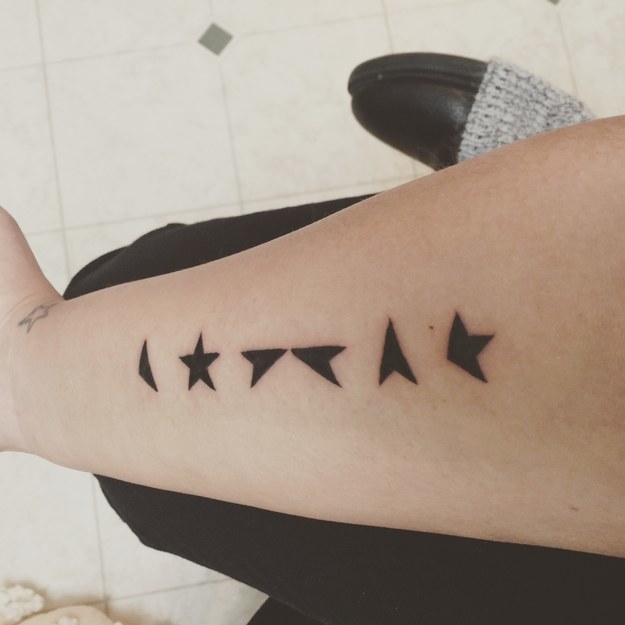 "I got this the week after David Bowie passed away. He was my first major music influence and taught 14-year-old me that it was okay to be yourself, even if you're a little weird."
—allisonl4379c77e1
This sweet father-daughter bonding moment: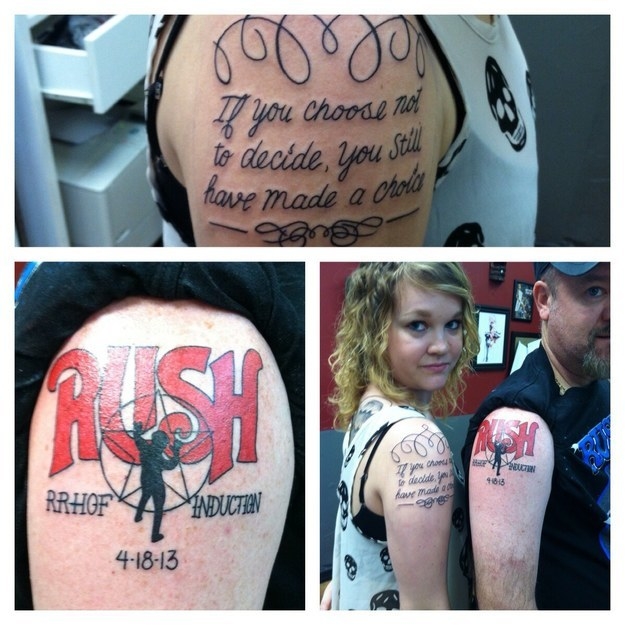 "My dad and I went to get Rush tattoos five years ago. He got the band logo right before they were inducted into the Rock and Roll Hall of Fame. I got lyrics from their song 'Freewill.'"
—stephanie91
This record-inspired tattoo celebrating a milestone:
"I've loved Joy Division for many years. They're my go-to, no matter if I feel depressed or happy. I got this tattoo when I hit the six-month mark of being clean after a five-year addiction to heroin. Seeing it daily reminds me of what I've survived, and that I can basically live through anything now."
—amym4b744e2a6
This Ariana Grande tribute: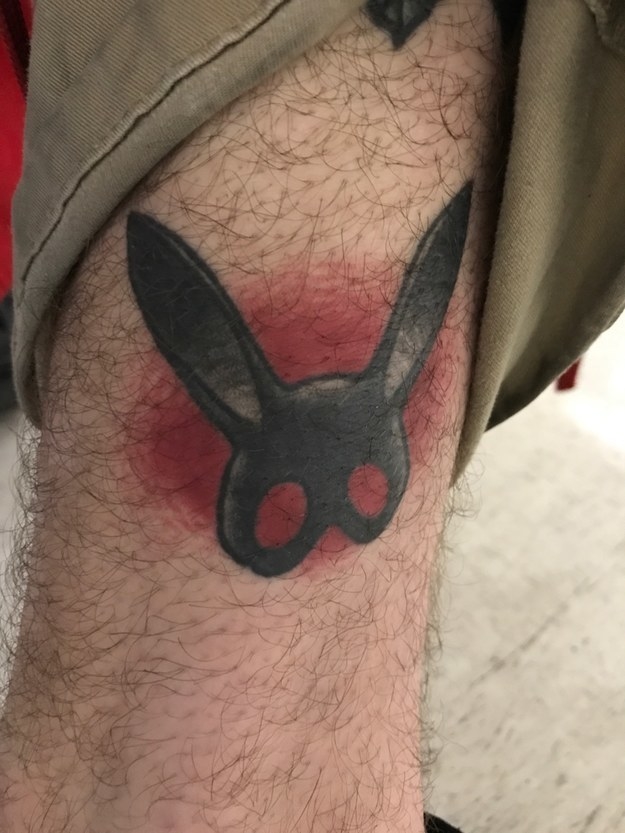 "I've been Ariana Grande's biggest fan for years. I've always loved strong badass women, and her album represented that."
—christopherf4a0d0a2c4
And this ultimate fan tribute to Stevie Nicks: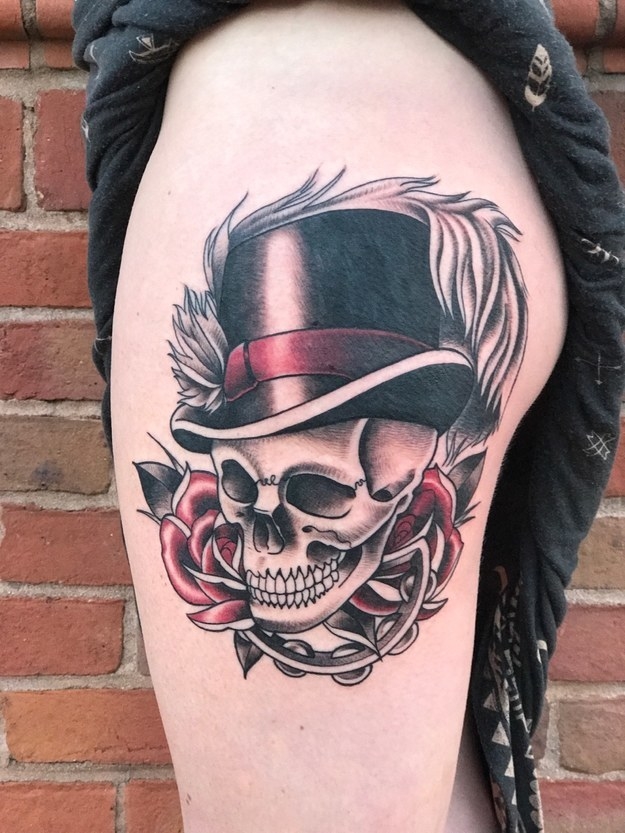 "My Stevie Nicks-inspired tattoo features her most iconic pieces including her tambourine, roses from Bella Donna, a top hat, and a feather. I've loved Stevie my whole life, and my mom sang me the Rumours album so I could fall asleep at night."
—hollye4cfabf166
This beautiful watercolor tattoo: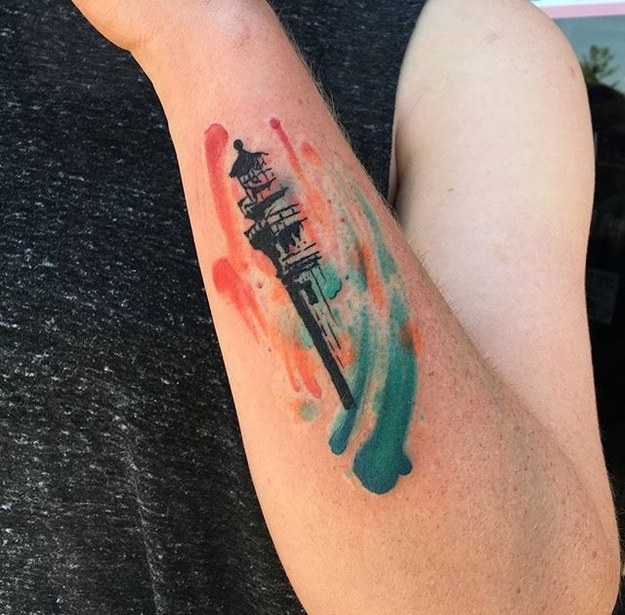 "I got this one inspired by the song 'Waves' by The Dear Hunter. It reminds me every day that regardless of what you are going through, there is a light at the end of the tunnel, and in this case, a lighthouse in choppy waters."
—lauraw41e14b450
This inked masterpiece that will outlive any concert t-shirt: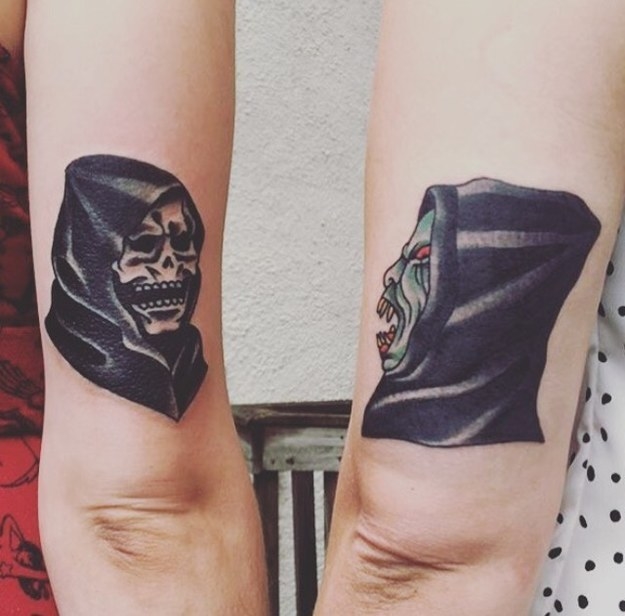 "My best friend and I got the masks from the cover of Brand New's The Devil and God Are Raging Inside Me. We've seen Brand New together multiple times and appreciate that album so much."
—carmenb12
This album-inspired portrait: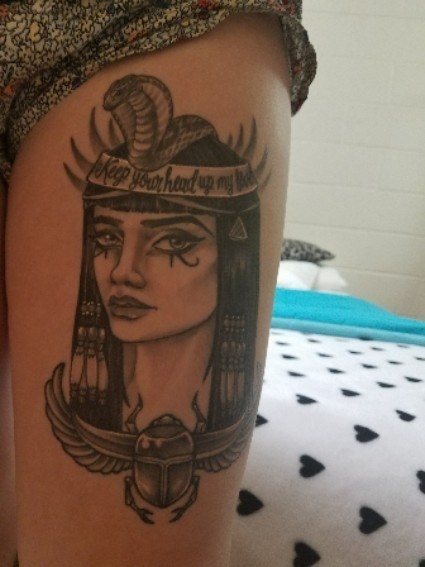 "A tribute to my favorite band, The Lumineers, with a portrait of Cleopatra in honor of their most recent album. Shoutout to my tattoo artist for capturing my love for them so perfectly!"
—aspitzzz
This ink representing the power of being able to let go of the past: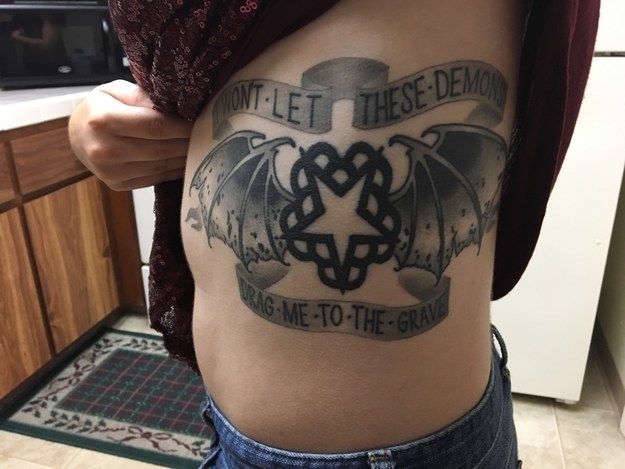 "One of my favorite bands is Black Veil Brides. The center is their logo, and the lyrics read, 'I won't let these demons drag me to the grave.' This tattoo really represents me being able to rise above and release all of the struggles I had been saddled with."
—emilym4478a6520
This colorful tattoo honoring a family member: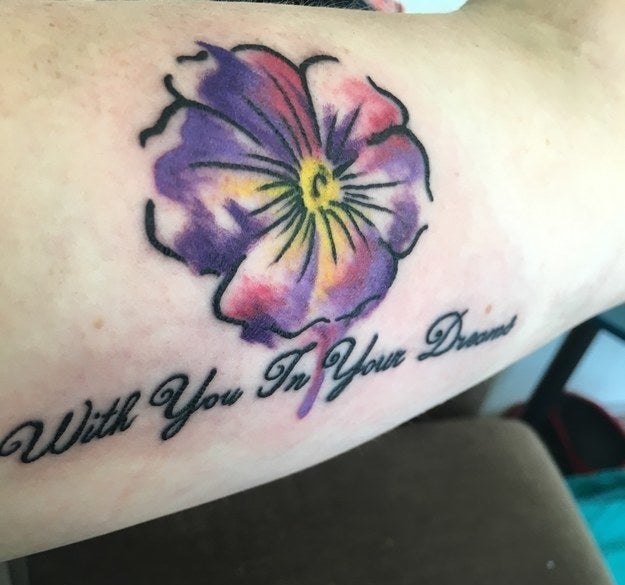 "I got this after my Nana passed away. It's a pansy with the Hanson song title, 'With You in Your Dreams.' That song got me through the weeks leading up to Nana's passing and just resonates with me."
—emmaw4fc539148
This colorful, inspiring tattoo: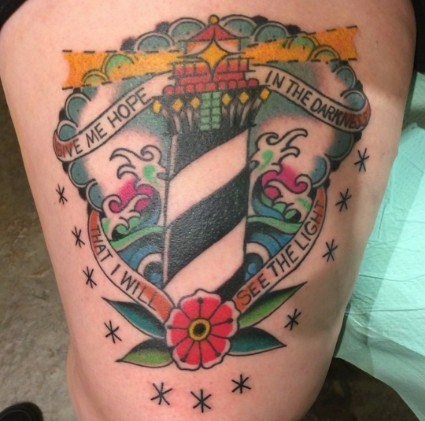 "My tattoo has lyrics from the song 'Ghosts That We Knew' by Mumford and Sons. This band helped me through the worst of my depression, and these particular lyrics were the most meaningful."
—k4bca8e5ae
This reminder that you can always look forward to tomorrow: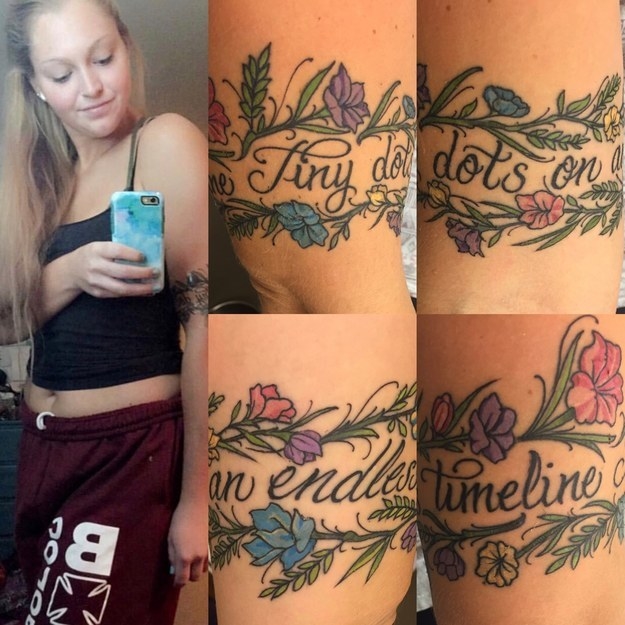 "My tattoo is lyrics from a song by my favorite band, La Dispute. For me, it's a reminder that even the worst days are just small dots on a vast timeline."
—alisam4bd65f45b
This tattoo every Fleetwood Mac fan would love: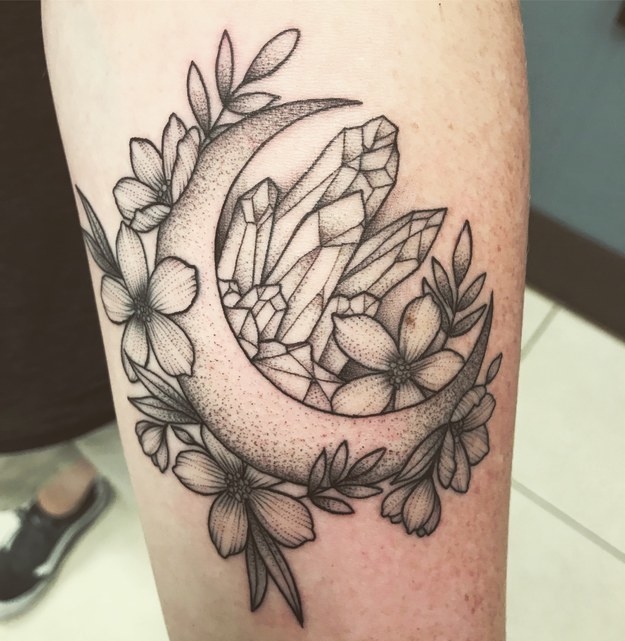 "I am a huge Fleetwood Mac fan, and specifically, a huge fan of Stevie Nicks. I wanted a subtle tribute to her music as my first tattoo, and I chose these elements that I felt really represented her work."
—alyssab41698329f
This reminder that you can weather any storm in life: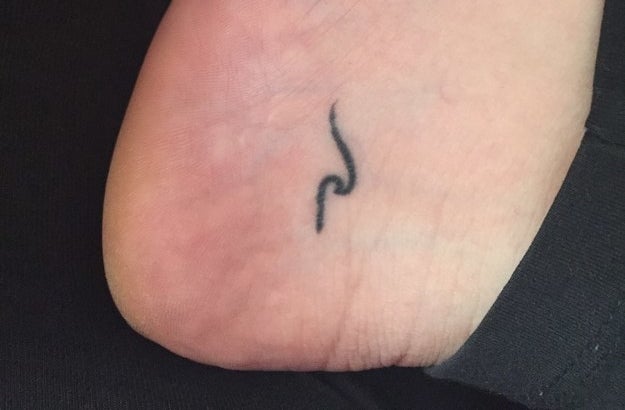 "This lyric — 'Let me walk upon the waters / Wherever you would call me / Take me deeper than my feet could ever wander' — from the Hillsong United song 'Oceans' reminds me that I'm never alone and to trust the journey, even when it feels like I'm drowning."
—emsdub
This Adele-inspired ink: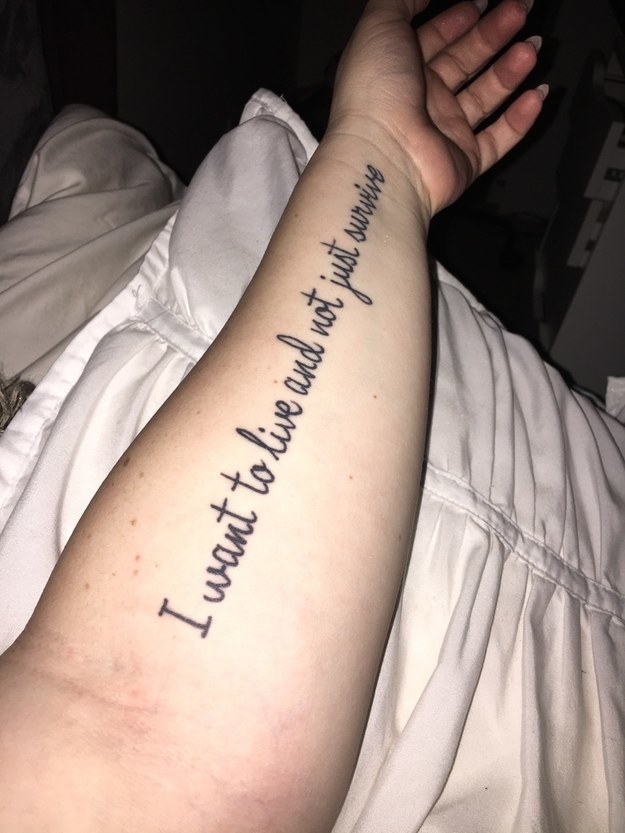 "The first time I heard Adele's 'Love in the Dark,' I immediately burst into tears when she sang these words. I knew I had to get it on my body someday."
—zoeeg
This inked-out daily reminder: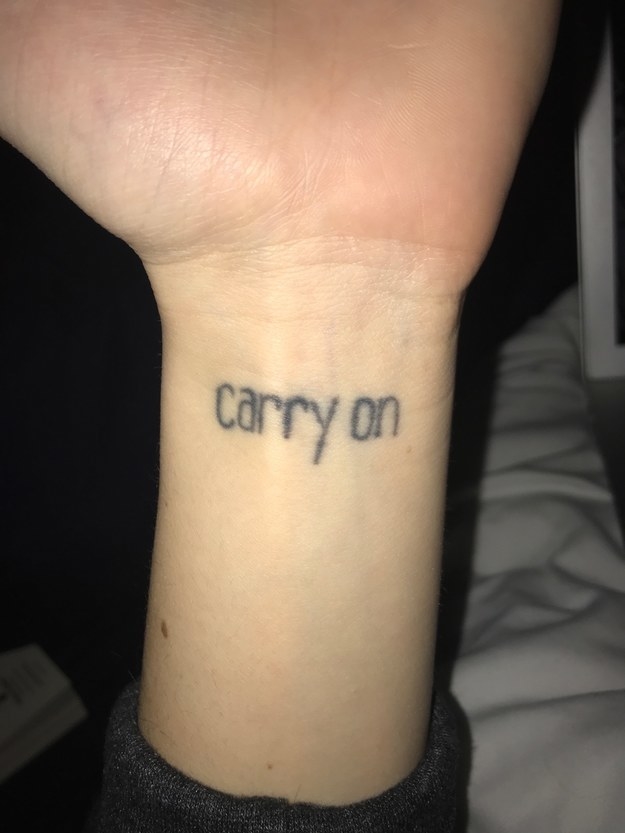 "My favorite daily reminder inspired by my favorite song from Fun. This band has gotten me through a lot in life, but 'Carry On' has been my mantra and the source of my strength for the last four years."
—kellyroseo2
This reminder of how music can empower you: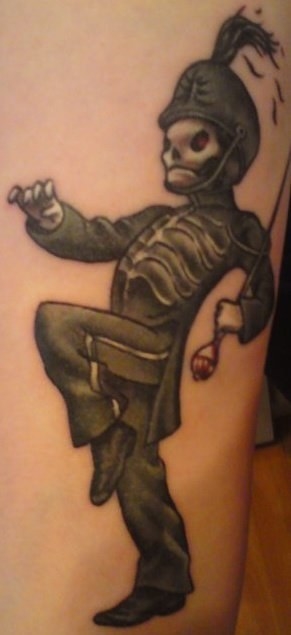 "I got this Black Parade soldier because My Chemical Romance helped save my life. They helped me find out how strong I can be. They helped me battle my depression and realize there's no need to be scared anymore."
—katekatastrophel
This throwback to The Beatles: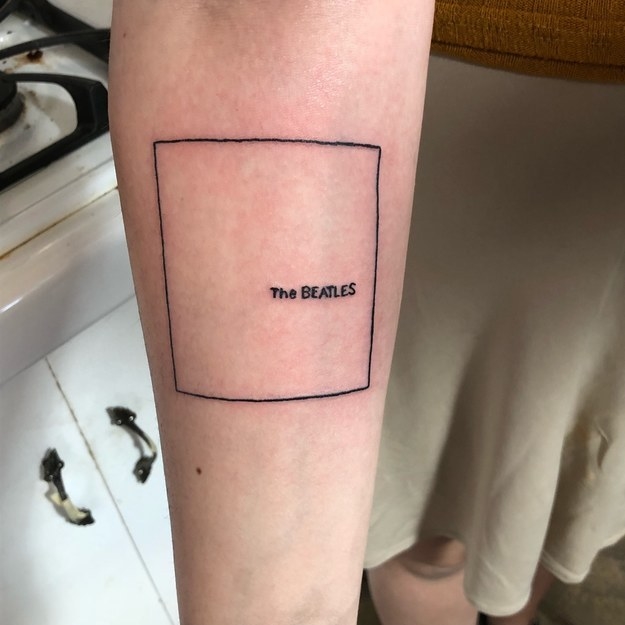 "My first tattoo was the Beatles' White Album. I've listened to it my whole life and it's really special to me."
—alexb430badf49
This We The Kings–Lord of the Rings mashup: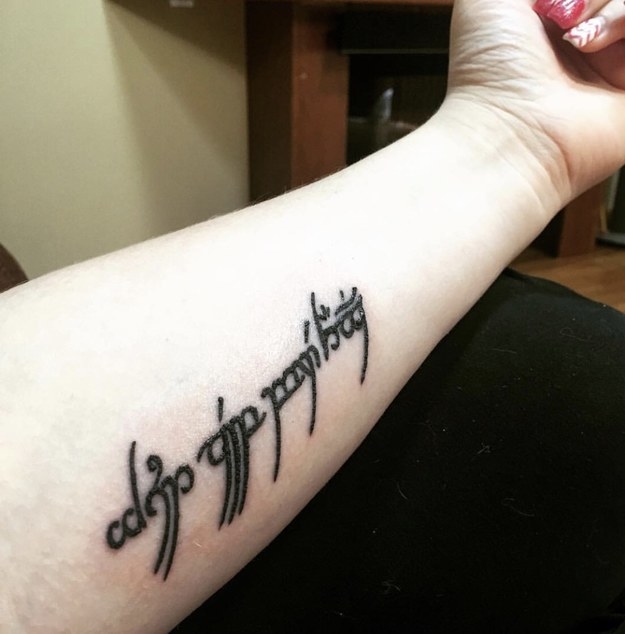 "Although it's written in Elvish, it translates to 'Just Keep Breathing,' which is my favorite We The Kings song."
—jessicas45de8fa43
This ink inspired by Twenty One Pilots: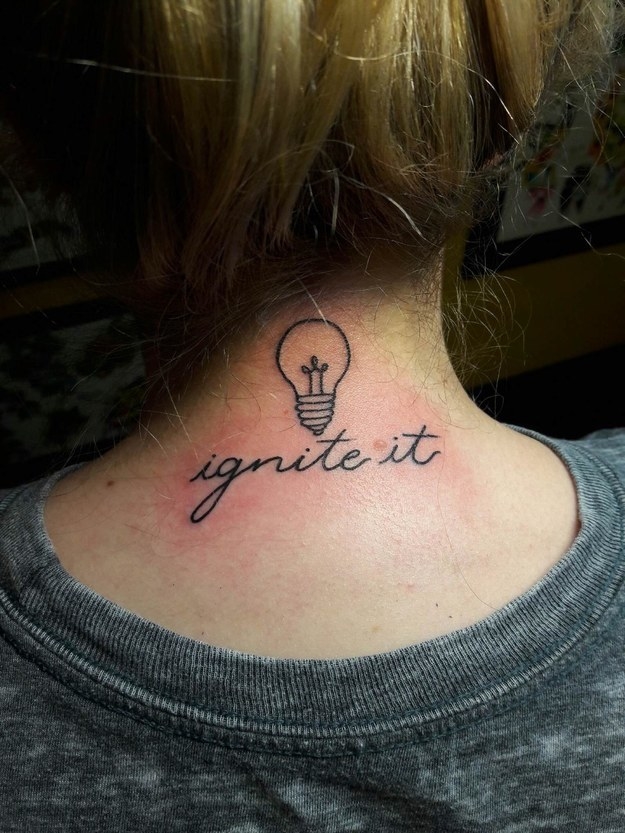 "Twenty One Pilots helped me get through the worst anxiety I've ever had. My tattoo is inspired by their song 'Holding Onto You,' and it's my favorite by them."
—madisonm4b577e0d4
This Red Hot Chili Peppers design: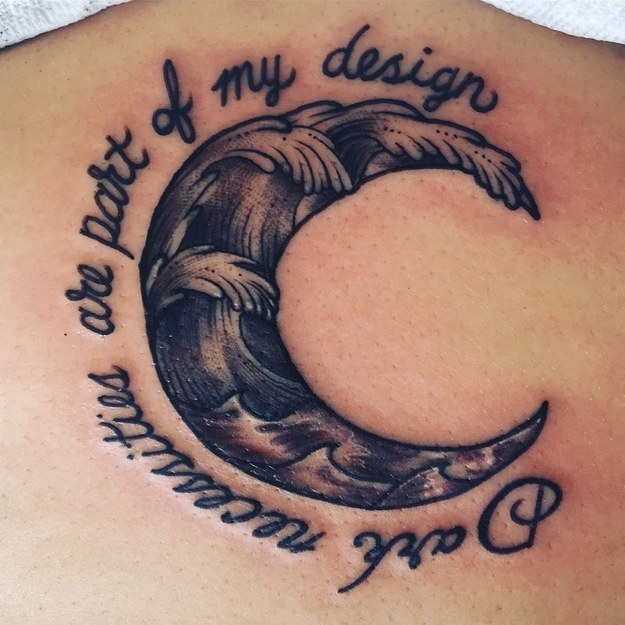 "My first of many Red Hot Chili Peppers tattoos. 'Dark Necessities' came out when I was struggling a lot with my depression and anxiety. The tattoo is of part of the chorus, which says, 'Dark necessities are part of my design.'"
—tassiea
This pop-punk pinky promise: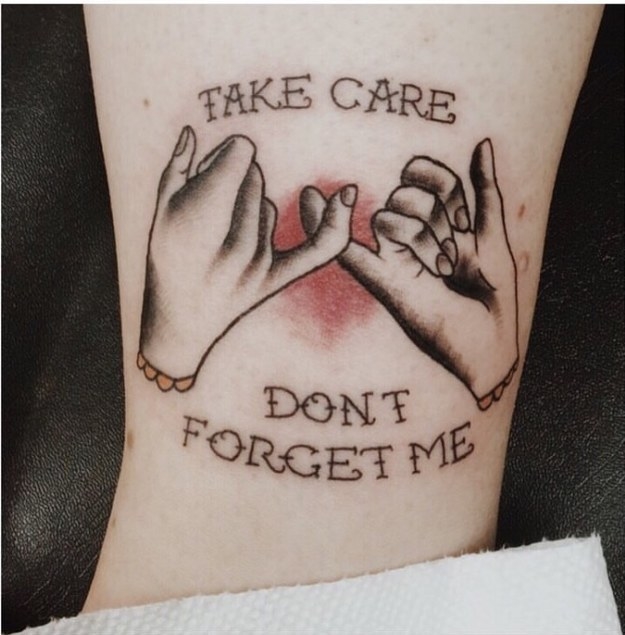 "This tattoo is from 'Losing Teeth' by Neck Deep. I got this for my 23rd birthday, and it helps me deal with the ebbs and flows of friendship."
—c418a0deb8
This life motto: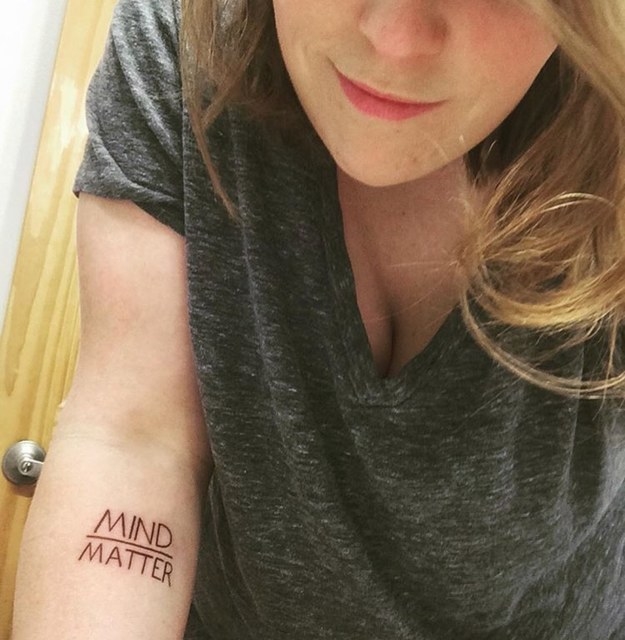 "This is inspired by 'Mind Over Matter' by Young The Giant. I love the song, but it's also a motto that gets me through tough days."
—kairstif
This reminder that "every day is a new day:"
"I listened to Linkin Park whenever I was struggling with my depression, bullying, and feeing like I didn't fit in. My favorite Linkin Park song is 'Shadow of the Day.' I got this tattoo to commemorate the lyrics, 'The sun will set for you,' because it reminds me that every day is a new day and that I can get through anything."
—alliek488dd7aef
This reminder that true love exists: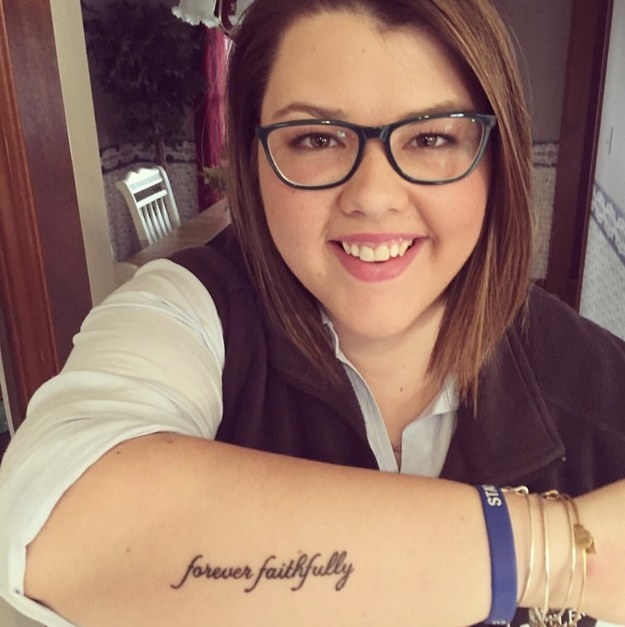 "My mom really loved one singer John Berry, and her favorite track was 'Our Love Amazes Me.' The line on my arm is taken from the chorus: "You give me hope, you give me reason. You give me something to believe in. Forever faithfully, your love amazes me.' It's a daily remember that true love exists and I'm blessed to have witnessed it between my parents."
—whitneyj4270c1b23
This ink that celebrates being accepted: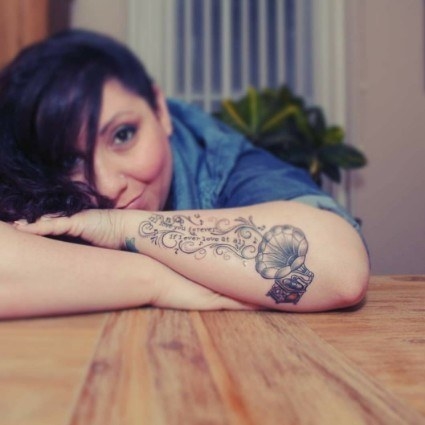 "For me, this tattoo represents growing up and gaining a sense of acceptance. I'm not sure that love is in the cards for me, and this line makes me feel okay about that. 'I'll love you forever, if I ever love at all' is from 'Blue Jeans and White T-Shirts' by The Gaslight Anthem."
—j437a857ca
This stroll down memory lane: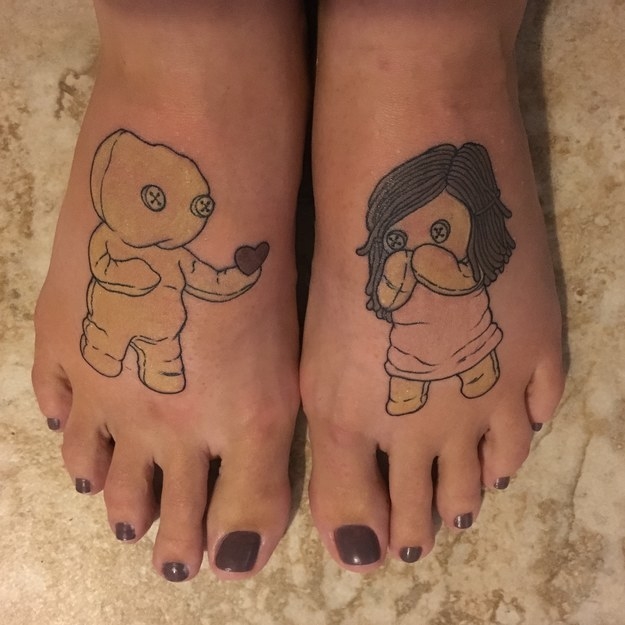 "My tattoo is from the music video for 'It Had to Be You' by Motion City Soundtrack. They have been my favorite band for 15 years. When they announced they were breaking up, I wanted to commemorate all of the awesome adventures I've had because of their music."
—crystalw4773f07fd
This homage to a life-changing album: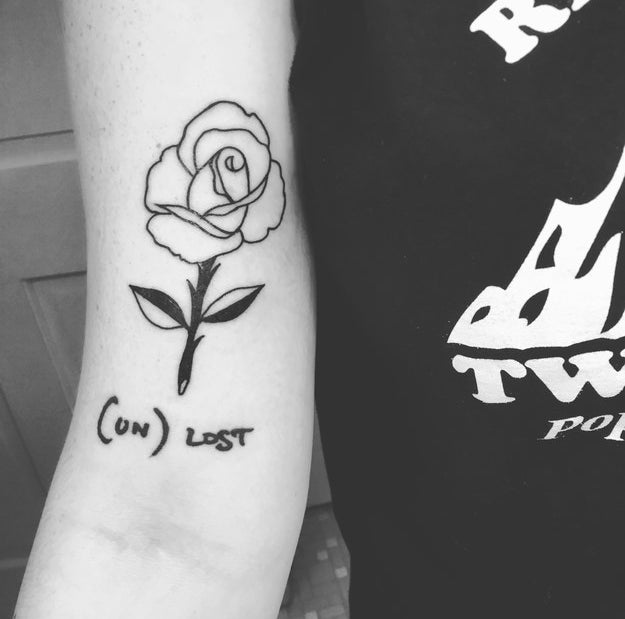 "'(Un)lost' is a song that means a lot to me, so I asked John O'Callaghan (the singer and lyricist for The Maine) if he could write it out for me for my first tattoo. The rose is artwork from their most recent album, Lovely Little Lonely, which is another album that came to me when I needed it most."
—elizabeths4f2cde5bd
And finally, this Panic! At the Disco ink:
"Panic! At the Disco has been my favorite band since 2006, so naturally their music has been with me through thick and thin. I got their logo and this lyric from 'This Is Gospel' during a time in my life when I was going through a lot. 'The fear of falling apart' is a reminder for me to keep going because things will get better."
—andreac4da40cac5
Note: Submissions have been edited for length and/or clarity.
[ad_2]