[ad_1]
Excuse me while I adopt a whole Eastern lifestyle. Thx!
Rihanna's makeup artist Hector Espinal actually did my makeup here.
Taylor Miller / Zoë Burnett / BuzzFeed
What's up y'all! Essence, beauty editor here at BuzzFeed, and I committed to trying a Korean skin care regimen for a month. I lived my entire teens and 20s with barely any breakouts, but when I hit the big 3-0, my hormones got wacky and my skin started breaking out, ESPECIALLY around the time of my period!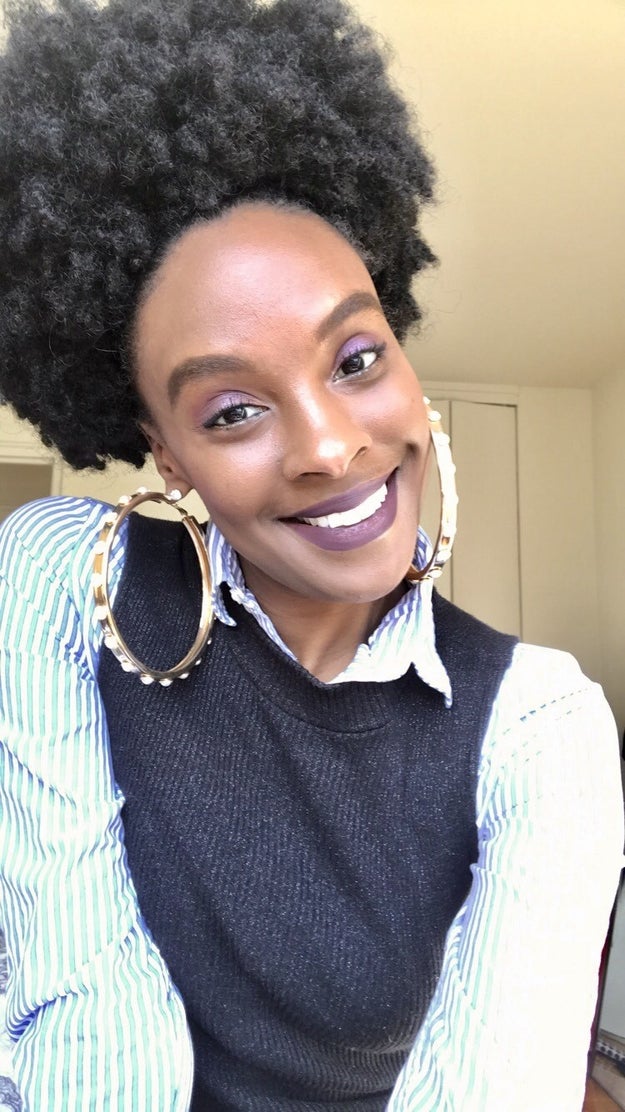 Essence Gant
To combat my skin problems, I met with Charlotte Cho, co-founder of Soko Glam—one of the biggest online retailers for Korean beauty products. She's also an esthetician, so I went to her office and had her look at my face to tell me what the heck was going on with my skin and recommend me a full K-beauty (Korean beauty) skin care routine.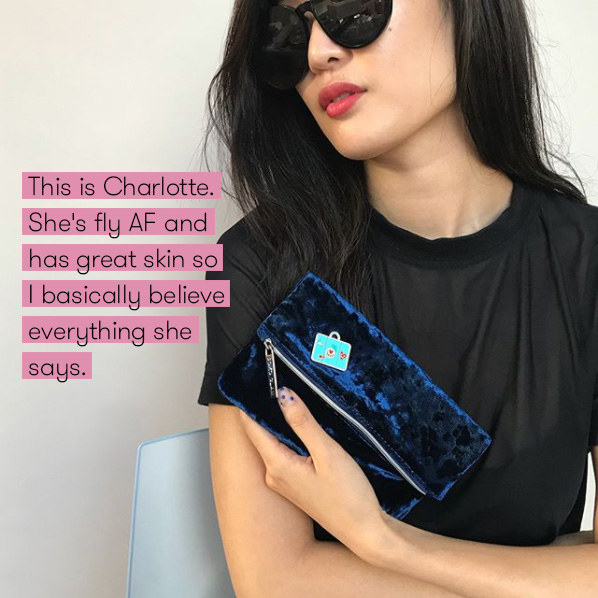 I am now a HUGE fan of going to an esthetician or dermatologist after my meeting with Charlotte, by the way. I learned so much about my own skin that I didn't know. First of all, I went to the office telling her I was super oily and had severe breakouts. In a very nice way she told me I didn't really know what I was talking about and everything I thought about my skin was wrong.
For starters, she said I was normal combination; not oily. She said if I was oily, my pores would be super visible. She also said the breakouts weren't as serious as I'd imagined them to be in my head. They were hormonal flare ups that were common with age. Had I not gone to a skin expert, I would have for sure bought the wrong products, and tried to solve problems I didn't have — which could have had adverse effects. I seriously suggest going to a professional so that you a) know what's really going on with your skin, and b) don't waste your money buying the wrong products. I honestly can't stress this enough!
@charlottejcho / Via instagram.com
Now if you're not up on game, K-beauty is REALLY known for its skin care. There are 10 steps total, although, fun fact: you don't have to do each step every single morning and night.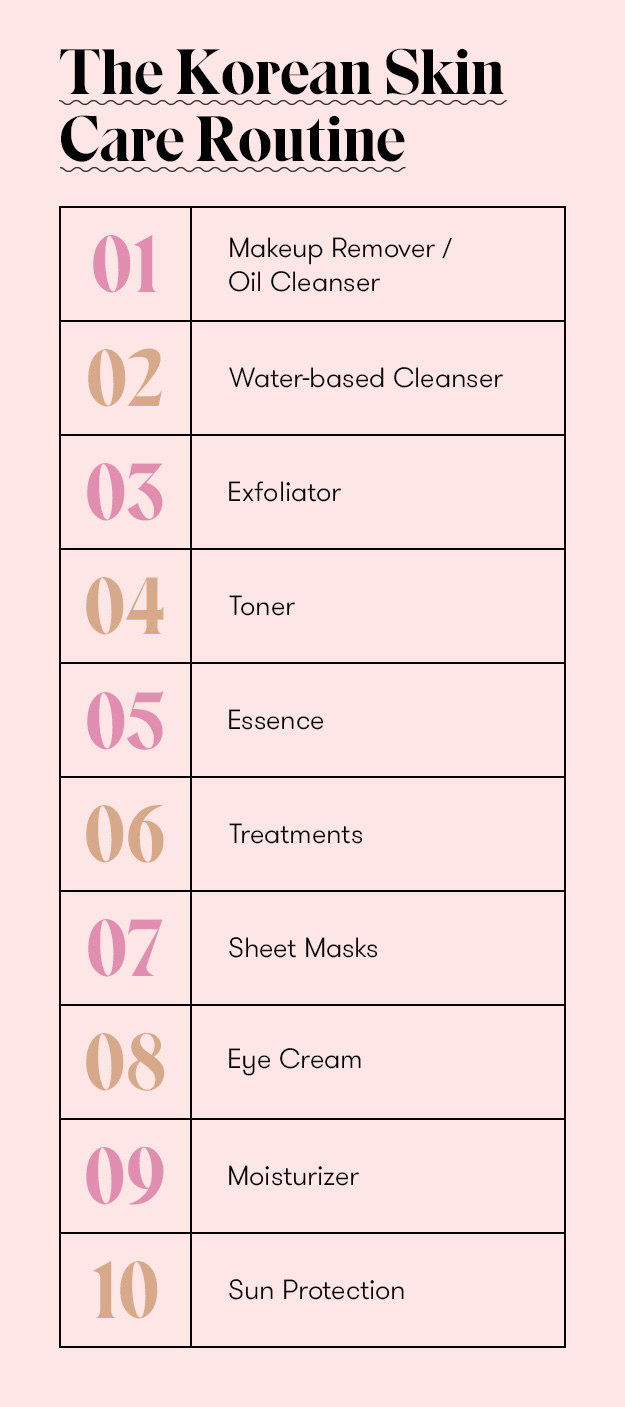 Zoë Burnett / BuzzFeed
For my concerns — hormonal breakouts and hyper-pigmentation after — Charlotte prescribed the below products. I know it seems like a lot, but I didn't use every single product every single day, and some of them I didn't use at all. Each product is numbered to correlate with one of the steps above, and a brief description of what they do is below: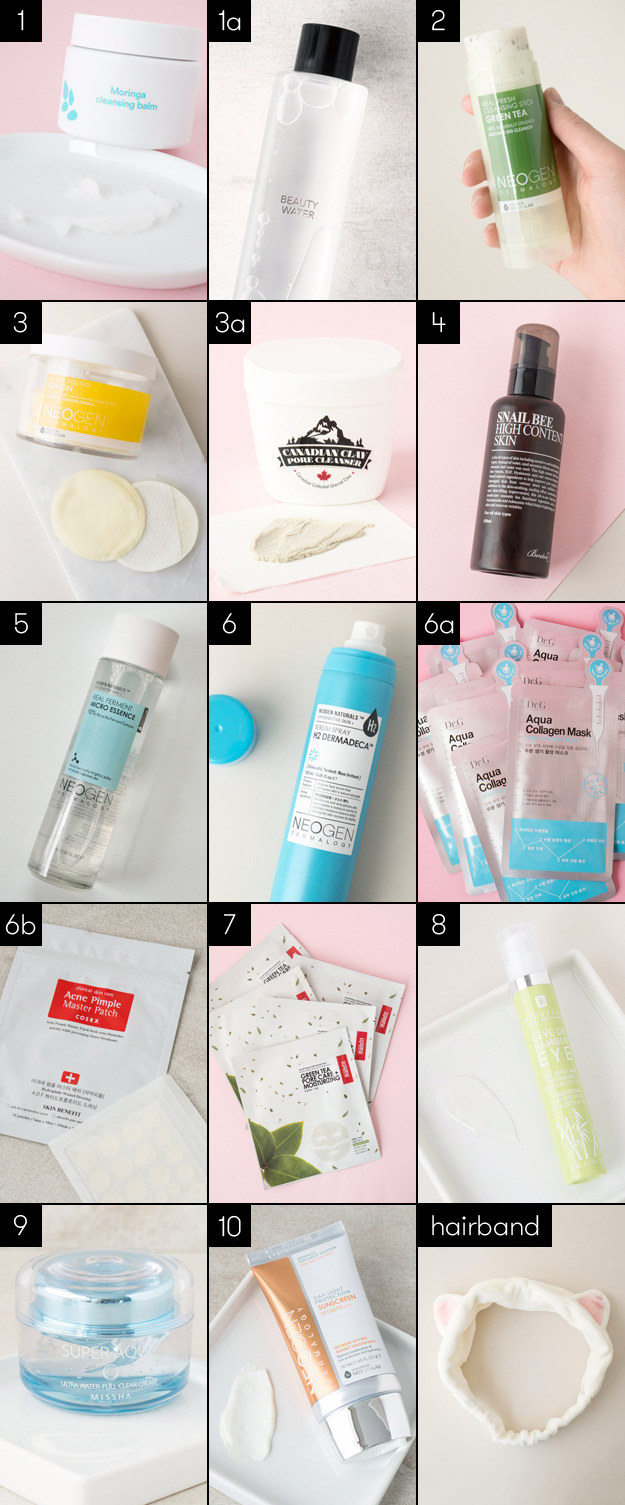 All products can be found on Soko Glam. I've taken the liberty of starring the products I actually used on a regular basis.
🌟 1a. Son & Park Beauty Water, Makeup Remover: I only used this on days I wore makeup. It's really good for removing stubborn eyeliner and lipstick, fyi. Get it for $30.
🌟 1. Moringa Cleansing Balm, Makeup Remover + Oil-based Cleanser: Now this I used every day, even after the beauty water, and LOVED it! Get it for $23
🌟 2. Neogen Real Fresh Green Tea Cleansing Stick, Water-based Cleanser: I faithfully followed step one with this cleansing stick. Didn't think I would like it because I'm used to pump cleansers, but it works amazing! Get it for $22
🌟 3. Neogen Bio-Peel Gauze Peeling Lemon, Exfoliator: It's a jar of exfoliating pads. My skin felt so soft after each use. I made the mistake of using them every day at first, but by week two I only used them about four times a week so that I didn't overwork my skin. Get it for $27.
3a. Neogen Canadian Clay Pore Cleanser, Exfoliator: This is a non-abbrasive exfoliating mask. I didn't use it every day, only if I was having a breakout and wanted some extra-deep exfoliating after the pads. Get it for $27.
🌟 4. Benton Snail Bee High Content Skin, Toner: I used this daily. You can apply with a cotton ball, or pat the product directly onto your skin. Get it for $18.
5. Neogen Real Ferment Micro Essence, Essence: I used this maybe a total of five times the whole month. I kept forgetting, but it's supposed to keep your skin supple and radiant. Get it for $38.
6. Neogen H2 Dermadeca Serum Spray, Treatment: I didn't use this every day either. I'd basically give it a spray whenever my skin needed a pick-me-up. AMAZING for hangover mornings when your skin is dull and dehydrated. Get it for $19.
6a. My Skin Mentor G. Aqua Collagen Mask, Treatment: Never used these either (Don't judge me!), but their supposed to aid in plumping and tightening. Get it for $30 (pack of 10).
6b. CosRx Acne Pimple Master Patch:, Treatment: So these are little stickers that you put on top of your breakouts if you get a pimple before your period or just randomly because life. I used them as needed. Get it for $5.
7. Variety of sheet masks, Sheet Mask: I also never used any of these. Had every intention to but laziness had other plans. Get them for $1.50 – $30.
8. Erborian Seve de Bamboo Eye Matte, Eye Cream: Sooo, I never used this. Not once during the whole month and prob won't ever. Get it for $34.
🌟 9. Missha Super Aqua Ultra Water-Full Clear Cream, Moisturizer: This stuff is a dream. It's clear, like actual water, and it's so lightweight. I used it every morning and night, and I'm definitely restocking when I run out. Get it for $26.
🌟 10. Neogen Day-Light Protection Sun Screen SPF 50/PA+++, Sun protectant: I confess that I never used sunscreen much before this project, which is not a good practice. I've been using this every morning though before I leave the house, and I really like it. It doesn't leave a white film on brown skin either! Get it for $30.
🌟 The hairband is great for keeping hair out of your face while you're doing your routine. I used it just about every day, and it worked great—even on my big hair. Get it for $5.
Now I know that all these steps can add up, so if you're on a budget, I recommend an oil cleanser, water-based cleanser, exfoliator, moisturizer, and SPF. Include the other steps as you need them.
Zoë Burnett / BuzzFeed

Zoë Burnett / BuzzFeed
So the devil began testing me two days into week one and I got a pimple on the right side of my chin that Thursday night. But I applied Canadian Pore Cleanser and a Pimple Master Patch, and it was legit gone the next morning. I was shooketh!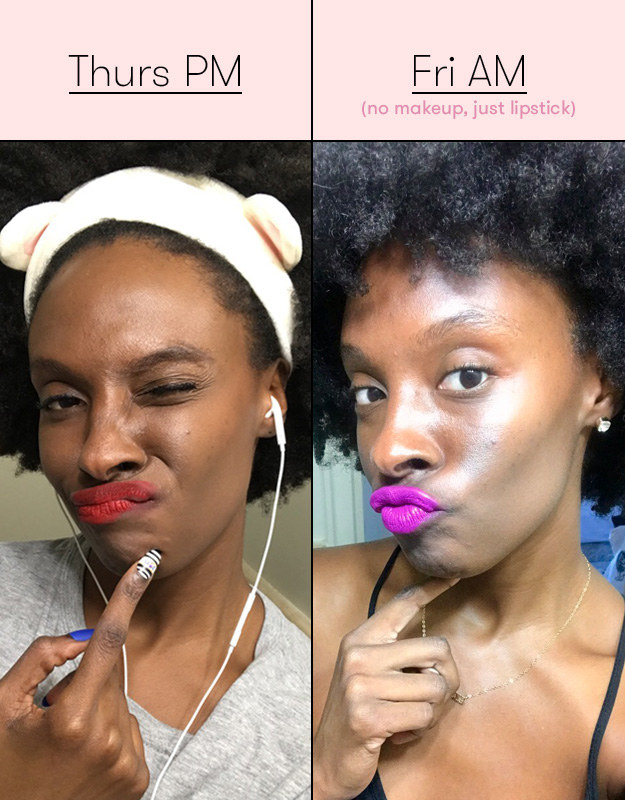 I was really excited to try my new products. I didn't do each step every night, and I didn't do some of the steps at all during the first week. My routine basically consisted of the oil balm cleanser, followed by the green tea cleanser, and then I exfoliated, applied toner and moisturizer. I did this every morning and night, and in the mornings I'd also apply the sunscreen after my moisturizer. (I would later find out in week two that exfoliating every morning and night was too much on my skin, so I switched to about four times a week in week two, waiting at least 24 hours between each time.)
My second night into the routine (Thursday), I noticed I had a pimple on my chin. That night I did my routine as normal, but after exfoliating with the Neogen lemon pads, I applied the Canadian Clay Pore Cleanser mask with hopes it'd pull out whatever excess gunk was under the surface of my skin and causing the breakout. The mask gets eerily bubbly and foamy, and it feels SUPER weird after a few seconds. After rinsing the mask, I applied the toner and put one of the Master Patches directly onto my pimple. The next morning the pimple was way smaller, and it had completely disappeared at some point throughout my day.
Tip: It's important to let your face completely dry before applying a Master Patch, and put it on after your toner but before your moisturizer so it doesn't slide off. Moisturize around the patch, not over it.
Essence Gant / Zoë Burnett

Zoë Burnett / BuzzFeed
By week two, a stubborn pimple that had been on the left side of my nose for about two weeks was completely gone, and blemishes on my cheeks were already fading.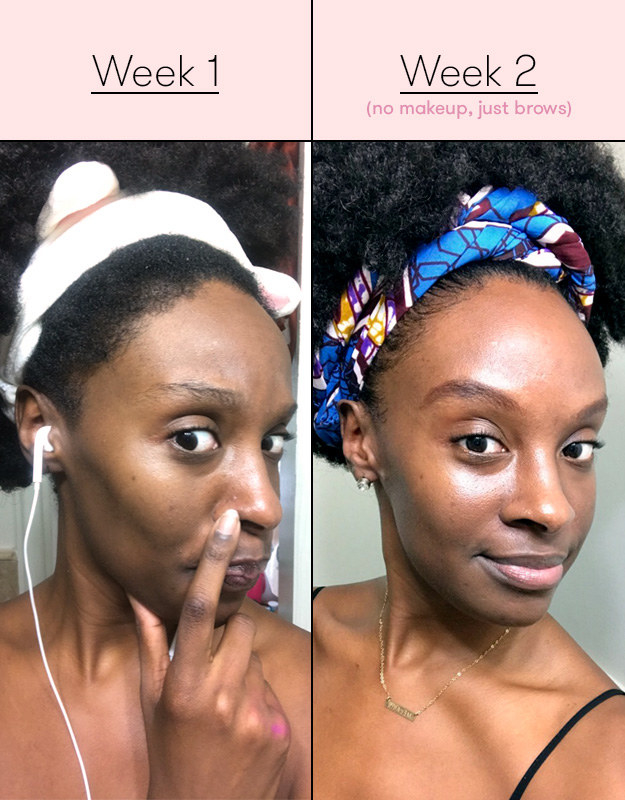 Okay, not to be conceited and shit, but can we give props to the way Week 2 skin is GLOWIN'?! Y'all see that big-ass forehead out here straight shining, but in a good way?
Umkay, so I could REALLY start to see and feel the difference by week two. My skin just felt so much fresher. The best way to explain it is that my face felt healthy: super clean, but not dry; super moisturized, but not oily; and extremely light. It felt how you'd imagine the Neutrogena commercial girl's skin to feel, right after she somehow manages to smile and look beautiful while splashing a bunch of water directly in her face.
My skin was for sure a lot more glowey, too. I even got compliments from two co-workers. And it's not like my skin was super even or without hyper-pigmentation, but it was just that radiant and I really think that's what made other people take notice. Not that I didn't notice the products working myself, but hearing it from them confirmed that it wasn't just me desperately wanting the regimen to work and tricking myself into thinking it was making a difference.
Week two was also the week before my period. I thought for sure I'd get a pimple smack dab in the center of my forehead, like I did the last two periods, but I didn't! I also didn't really get any around my chin or cheeks, and for the last two periods I've had breakouts in those areas. One day at the end of week two, leading up to my period, a pimple tried to emerge from my chin, but I put on a patch (every time I say anything about applying them damn patches I think of Nicorette) and it was gone the next day. I also substituted my Benton toner for my Clinique toner, and my exfoliating pads for my Clinique scrub that day, too. I used the Clinique because it feels more "chemical-y" (I know I sound crazy), and I really wanted something STRONG to fight any potential flare ups since my period was any day now. The K-beauty products could have been just as effective, but I was a little nervous because I know how my skin can get around the time of my period. Happy to report, no major breakouts.
Essence Gant / Zoë Burnett

Zoë Burnett / BuzzFeed
So I know the lighting is clearly brighter in the the wk. three pic, but light aside, the blemishes on my right cheek were visibly less noticeable.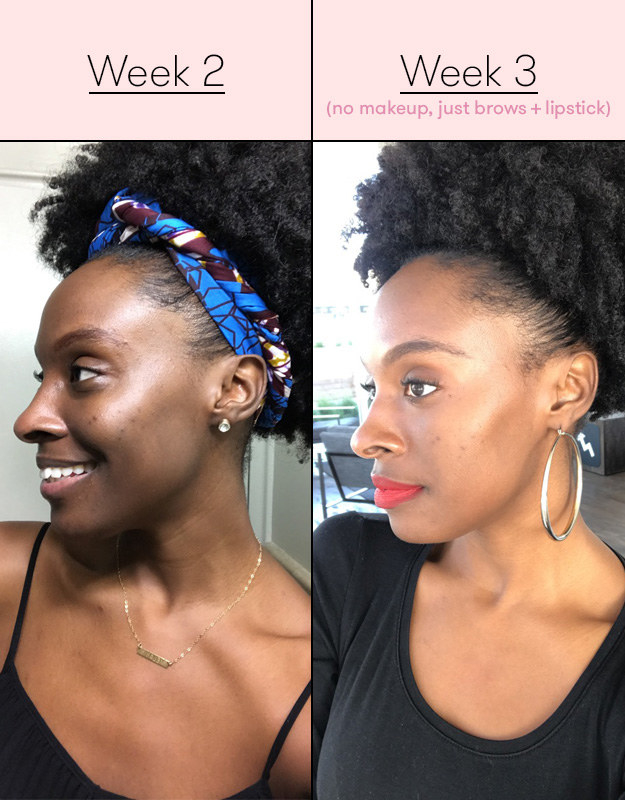 By week three I had made up in my mind that I was gonna incorporate more of the actual K-beauty steps into my routine… but i lied. I still didn't do a sheet mask, but I did try to use the essence here and there. I got to the treatment step maybe once or twice, and I had yet to apply the eye cream. It's not that I didn't want to, but it all came down to timing. I'm usually rushing in the mornings, and at night I just don't feel like it. That being said, the other steps—double cleansing, exfoliating, toning, moisturizing, and SPF—seemed to be doing a pretty good job on their own!
There's some hyperpigmentation on my right cheek, and I noticed it lifting as the weeks went by, especially by week three. The left pic above was taken in my bathroom and the right one was taken in the pavilion at work, so there's clearly a lighting difference. (My bad. Didn't really think that through.) But you can still see that the uneven spots were significantly lighter and starting to blend more into my natural complexion. I'm not wearing makeup in either pic; just brows and a lip in the left one.
Essence Gant / Zoë Burnett

Zoë Burnett / BuzzFeed
By week four I was completely sold! I had minimal breakouts and my skin's evenness was starting to restore.
There's still some hyperpigmentation, but it's lightened by a thousand percent. Not literally, but you get my point. You can see some remaining unevenness on the left and right sides of my face, and on the left side of my nose. Also, I still have product left for everything, except the lemon exfoliating pads, which I take total blame for because i was using them twice a day in the beginning. Def didn't need to do that.
Throughout the whole month, I probably got maybe three or four pimples, and they didn't last any longer than a day or two. I also noticed that towards the end, when I was really in the rhythm of the routine, my skin barely broke out at all.
Essence Gant / Zoë Burnett
In regards to Korean skin care, it's gon' be a yes for me!

So you probably know by now that I'm a HUGE fan of K-beauty skin care. I didn't even incorporate every step religiously, and I still saw, and felt, a major difference. Here are some key standouts from my experience:
Know I already mentioned this earlier, but I want to stress that if you can't get every single product, I recommend oil and water-based cleansers, an exfoliant, moisturizer, and SPF.
Double cleansing is the truth! Cleansing with oil first really gets off ALL your makeup, and it cleanses the excess oil your skin produces. Following up with the water-based cleanser rids any remaining dirt. I'm convinced that double cleansing alone will make a major difference in a lot of people's skin, especially if they wear makeup or are very oily.
The products are gentle, but effective. I hate when products are so gentle that you can't tell if they're actually working or not. These work, and your skin feels clean.
I saw results instantly. When it comes to skin care, I'm not that patient so I like products that target concerns as soon as you start using them. Because I was doing an actual skin care experiment for a month, I naturally paid a lot more attention to little things like keeping my hands off my face, and making sure my phone screen was sanitized. All of those little things help, too.
My skin felt really light. The regimen is a little more extensive than my prior regimens, but it didn't feel like it. My moisturizer actually felt way lighter than the moisturizer I was using before.
It really works!!! At least for me. Everyone is different, so we all have to find the thing that works for us, but K-beauty really made a difference for the better in my skin. The month is up and I still use it every morning and night, and will continue doing so.
Zoë Burnett / BuzzFeed
Lmk in the comments below what other beauty treatments, regimens, rituals, literally whatever, you wanna learn more about.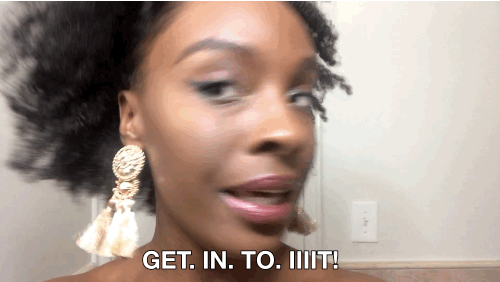 Essence Gant
[ad_2]