[ad_1]
Our Hawkins homegirl can layer the heck out of a sweater.
Over the weekend, Season 2 of Stranger Things transported us back to the '80s in Hawkins, Indiana, where yes, okay, a lot of spooky things keep happening — but at least the fall fashion is always on point.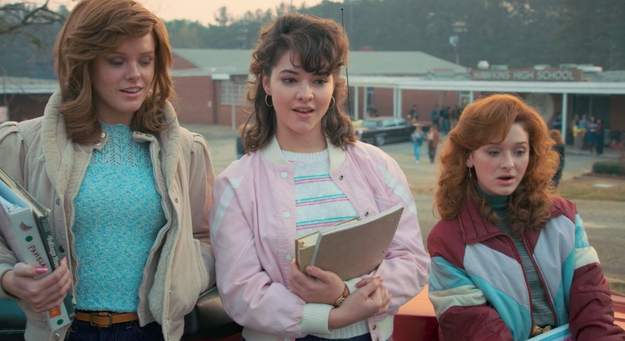 Case in point: all these slaydies from the eighties.
Netflix
But of course, no one in Hawkins truly does it better than our fave teen queen Nancy Wheeler.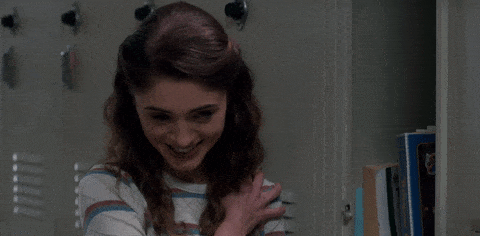 And so, in honor of her most top-notch layered ~lewks,~ I've created a very important ranking of Nancy's best outfits from Season 1 and 2. (Warning: light spoilers ahead.)
Netflix
The 'Neck & Sweater Combo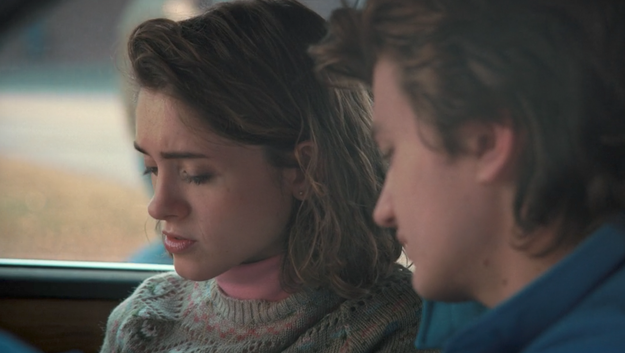 Actress Natalie Dyer has such a tiny frame that otherwise bulky layers always look impossibly lovely on her. We see this bubblegum pink color on her character a lot through the series, probably to accentuate her role as a bit of an ultra-feminine foil to the show's young male stars.
Netflix
The Very 80s Sweater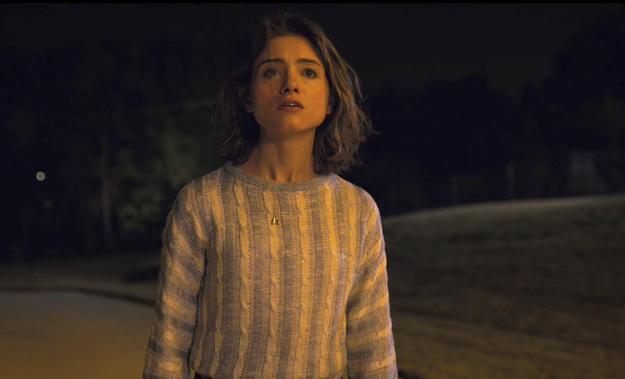 This pastel mini cable knit from the beginning of Season 2 is a great, though very retro, reminder that Nancy has not only continued her serious sweater collection, but also her affinity for delicate jewelry. Still, it's not Nancy at her most memorable.
Netflix
The ~Woman With A Mission~ Coat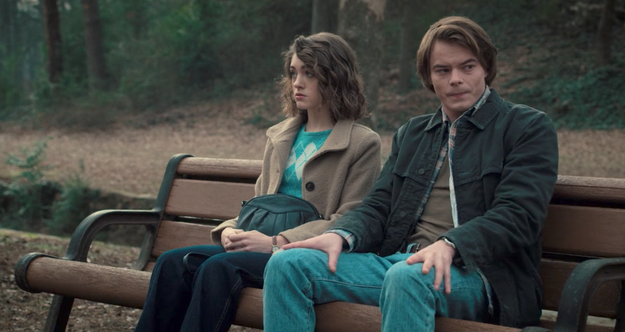 Nancy's camel wool coat is anonymous and perfect for those weird Season 2 scenes where she's running around with Jonathan like some kind of Stranger Things/The Americans mashup, but once again, her sweater choice feels dated, even on her. Bonus points for the clutch, though — one can easily imagine two hipsters fighting over something like that at Beacon's Closet.
Netflix
The ~I'm A Cool Teen~ Outfit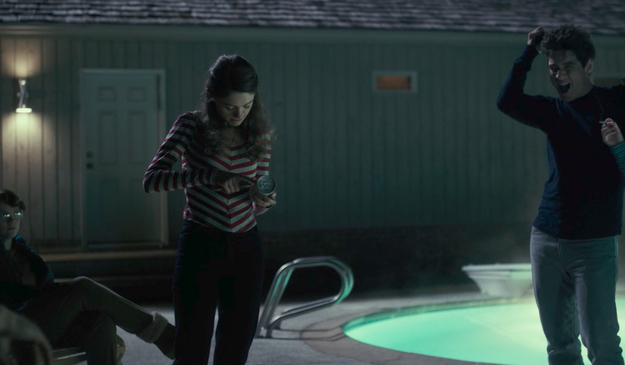 Nancy also wears a lot of stripes in the show, but this shirt? sweater? is almost interestingly generic and forgettable. Fitting, since this is the Season 1 scene where Nancy caves into peer pressure from Steve and his goonhead friends.
Netflix
The Flannel Nightgown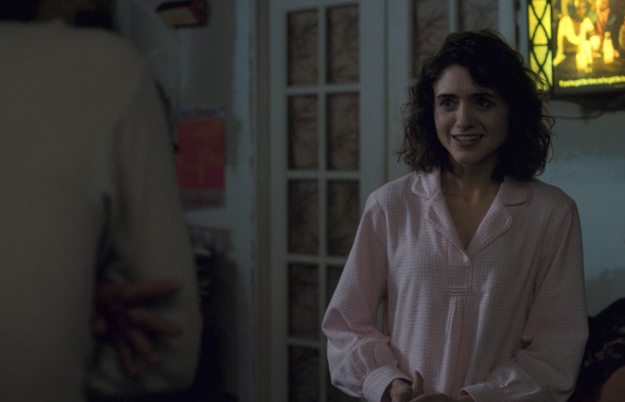 Another straightforward case study in pink, in a shade that would make any millennial today very proud.
Netflix
The Snow Ball Dress
As the winter dance's punch chaperone and unofficial stand-in dance buddy, Nancy looks more grown up than ever at the end of Season 2. But this crimson plaid dress makes her look like a totally different person, especially with her curly hair. Apparently, not even this high school trendsetter was safe from the 80s perm craze.
Netflix
The Embroidered Nightgown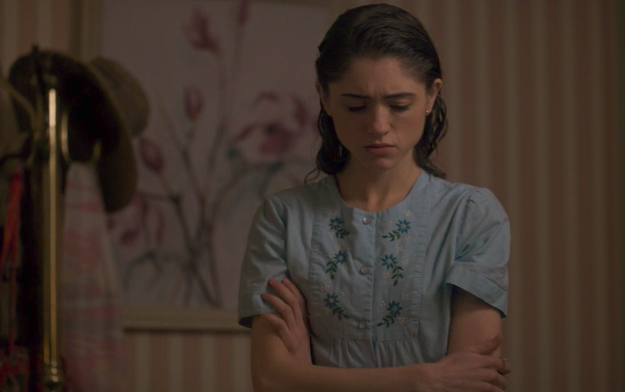 I generally don't love how movies and TV shows will put female stars in their sleepwear to telegraph vulnerability, but this cornflower blue number is v. Laura Ingalls in the best way, so I'll allow it.
Netflix
The Funeral Outfit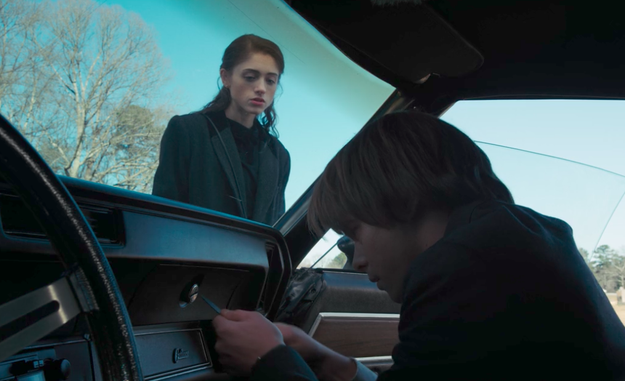 We'll see this moody menswear-inspired vibe on a different female character in full force in Season 2, but it looks great nevertheless on Nancy in Season 1. A refreshing if somber sartorial twist on her ultra-feminine style.
Netflix
The Ribbon Sweater #1
Catching all of the tiny details in Nancy's early outfits, like this ribbon-tie sweater, is just one more excellent reason to go back and rewatch Season 1. Plus, she and Barb are matching!!!
Netflix
The Lady In Gray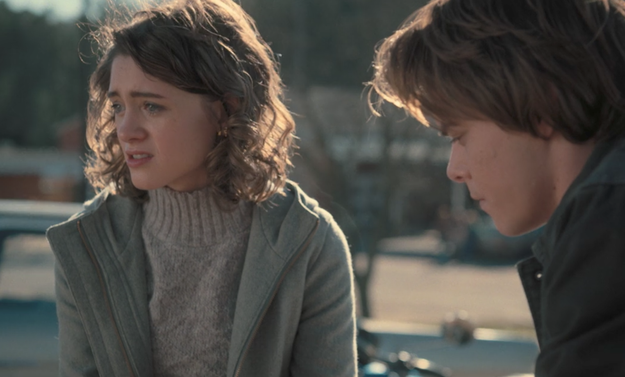 How cozily elegant does this mock-neck sweater look though?? This gray-on-gray pairing with another Season 2 wool coat does a much better job than that Snow Ball dress to highlight Nancy's growth and maturity, plus it really wouldn't even look out of place in a 2017 J. Crew catalog like at all.
Netflix
The Rainbow Sweater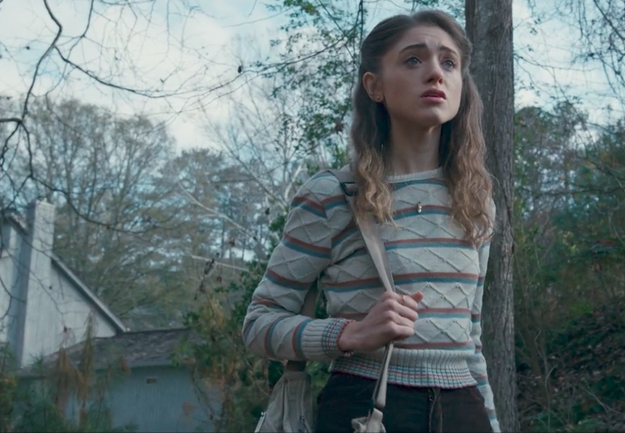 Let's discuss the great texture thing going on with this sweater, plus the great rainbow striping, plus the super-close fit that any winter-themed Barbie doll would kill for. An all-around very Nancy look.
Netflix
The Checkered Coat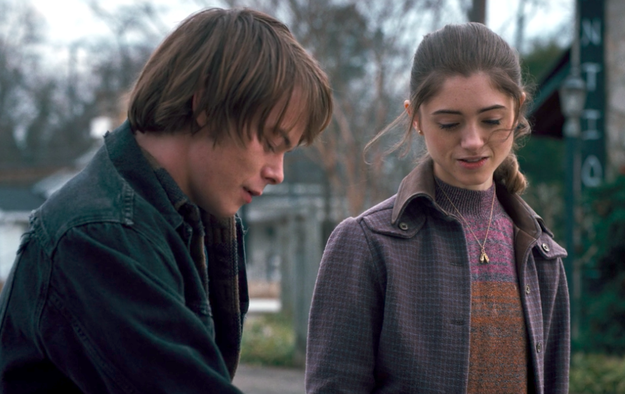 A solid purply autumnal ensemble here, with yet another winning sweater. BRB, paging the Duffer Brothers: WHERE CAN A GAL GET THIS COAT??
Netflix
The Christmas Sweater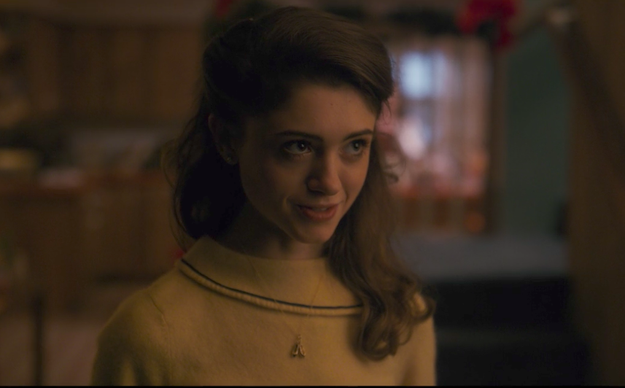 We need to discuss this gorgeous rolled collar number that also happens to be in the most festive mustard ever. It's very "responsible older sis," yes, but in a "Hi I know you're in love with me" kind of way.
Netflix
The Classic Cardigan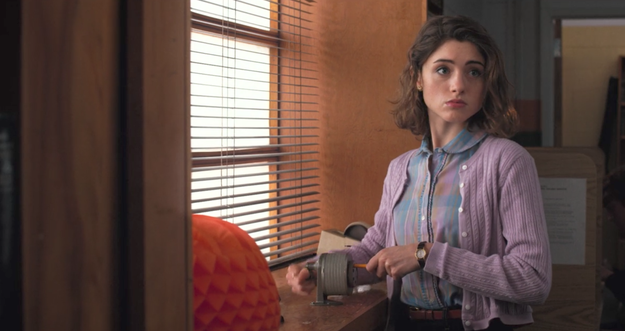 Another case of a killer collar — this one's a Peter Pan — here on a Season 2 outfit that expertly remixes the shades of turquoise and pastels we know to be Nancy's calling card.
Netflix
The Ribbon Sweater #2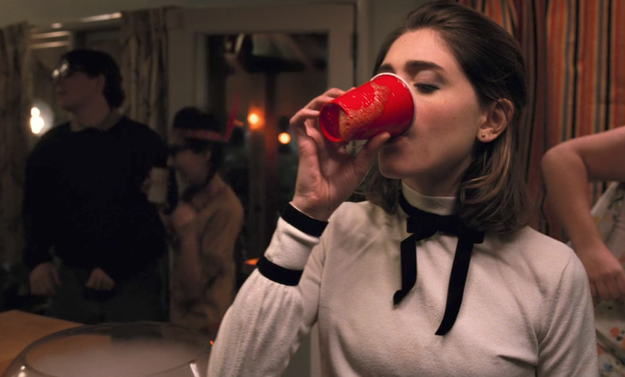 One has to suspend a degree of belief to think Nancy would wear a (probably cashmere) white sweater to a keg party, but it was fabulous to see her ribbon aesthetic again for this scene in Season 2. Plus, you could also read this rare black-and-white combo as a metaphor for her actual feelings about Steve, and their ensuing fight.
Netflix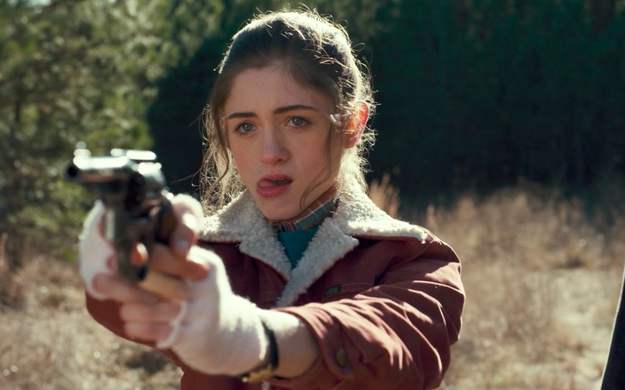 Knock 'em dead, Nancy. We'll see you in Season 3!
Netflix
[ad_2]