[ad_1]
"I gave myself TIME. I gave myself LOVE."
Strippers.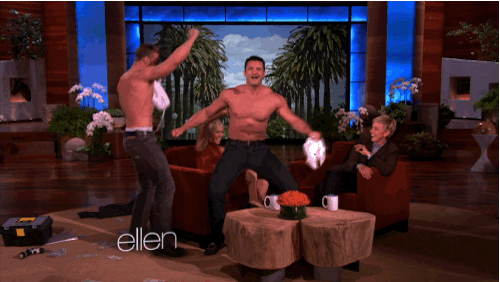 "I moved to another part of our state three years into our relationship. My boyfriend broke up with me over the phone at the beginning of December. After moping for three to four weeks, my mom said to me, "Like honestly, do you want me to throw you a break up party? With strippers?" Needless to say I had the most unforgettable break up party! I simply ended all communication with him and worked on improving myself to become the woman I want to be." —sarahh4670d71d4
NBC / Via giphy.com
"A guy who started as a summer romance continued with months of dating. He promised to love me forever, and was the first man who had ever really shown me what love was. For my birthday, he wrote me the most beautiful love letter I had ever read. But a week later, he stopped talking to me: wouldn't answer my phone calls, texts, anything. Finally, after a week and a half, he calls me and says we need to talk. We all know what that means. So I went to his house (an hour away) and he said he didn't love me, and that I had fantasized about our relationship. It was the worst moment of my life.
It took over a year to get over, but what helped the most was the gym. I turned to working out in times of stress and heartache, and I got in the best shape of my life." —emmag4b2459a71
"I was with my boyfriend for almost three years, and we were talking about getting engaged. Towards the end of the summer, he started hanging out a lot with a girl, like spending the weekend at his family's vacation home together—just the two of them as 'friends.' He dumped me the next time we saw each other. Of course, they started dating right after our break up.
I had a friend from college who really helped me through the faze of not feeling good enough as a woman. Several drunken vent sessions and months of piecing myself back together, I realized I was more in love with the idea of marriage than with him." —oywiththepoodlesalready
---
[ad_2]