[ad_1]
"[My principal] wanted to embarrass me … like my natural hair was ugly."
When an assistant principal told this Florida high schooler her natural Afro was a violation of school rules.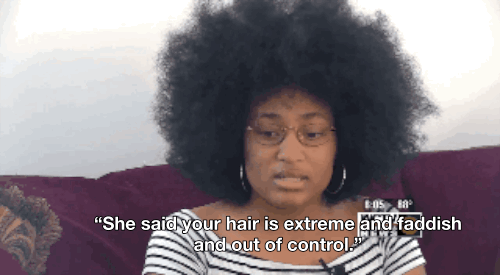 Jenesis Johnson, an 11th-grade student at a private North Florida Christian school, in Tallahassee, Florida, was allegedly confronted in front of classmates by her teacher about her hair. According to WCTV, Johnson said that the teacher asked, "How long are you rocking that hairstyle?" Two days later, she said the assistant principal told her: "Your hair is extreme and faddish and out of control. It's all over the place." Johnson was told she was not allowed to wear her Afro at school.
"It's hurting me. For my people behind me, the younger ones, they're going to have hair like me. Why can't they wear their natural hair?" Johnson told WCTV. The school declined to comment on the news report, but Johnson's mother said the administration eventually allowed her daughter to finish the school year. However, they were told their money would be refunded for the following semester if she didn't change her hair.
WCTV / Via wctv.tv
When this student was told to cut her hair or leave her private school.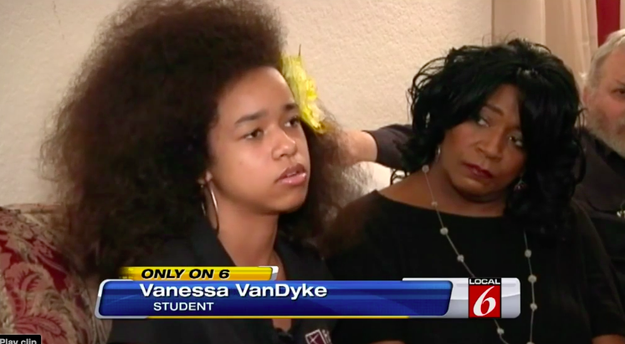 In 2013, 12-year-old Vanessa VanDyke told Local 6 that "she was given one week to decide whether to cut her hair or leave Faith Christian Academy," a private school in Orlando, Florida. The school's handbook states that "Hair must be a natural color and must not be a distraction." VanDyke — who'd been attending the school since the third grade — said that her hair wasn't a problem with administrators until fellow students started bullying her over it. Her mother told local reporters, "There have been people teasing her about her hair, and it seems to me that they're blaming her."
VanDyke refused to change her hair. "I'm depressed about leaving my friends and people that I've known for a while, but I'd rather have that than the principals and administrators picking on me and saying that I should change my hair," she said. The local station reported that Faith Christian Academy responded by claiming that VanDyke didn't have to cut her hair but should style it "within the guidelines according to the school handbook."
Local 6 / Via clickorlando.com
When these twins got detention and were expelled from track, Latin club, and prom for wearing box braids.
Earlier this year, 15-year-old twins Mya and Deanna Cook, students at Mystic Valley Regional Charter School in Malden, Massachusetts, told BuzzFeed News that they were "repeatedly punished for their hair extensions, which are against the school's dress code." In a school handbook, the dress code also stated that it prohibited "'fades' that are commonly worn by black male students, and 'Afros' that are most likely to be worn by black students (both male and female)."
In a letter to parents and guardians, Alexander Dan, the interim director of the school, stated, "We foster a culture that emphasizes education rather than style, fashion, or materialism. … The specific prohibition on hair extensions, which are expensive and could serve as a differentiating factor between students from dissimilar socioeconomic backgrounds, is consistent with our desire to create such an educational environment." (Totally not the point here, but you can get braiding hair for as little as $1.00 a pack, FYI.) After backlash from students, parents, and media, the Massachusetts attorney general told the school to end the ban.
YouTube / Via youtube.com
---
[ad_2]